We learned that our little friends love plenty of room to run and play, splashing water, lively games, thrilling rides, and a bit of evening fun every day. They love playing with other children, building things together, and when it's fun, they love learning, too.
Children vacationing at Fodele Beach & Water Park Resort will make memories for a lifetime, and they will want to come back year after year because summers are magic here.
These are some things and activities that will make summers unforgettable for children of all ages.
Plenty of Room to Play in the Sun
Summers mean sunny days every day, room to run, squishy sand to build fantasy castles, crashing waves that chase little feet back to shore. The private beach in front of the resort is a dream come true for every child. The sand is fine, the sea shallow enough to be safe to play in all day, and the lifeguard on duty will keep watch to make sure all things run smoothly.
And there are plenty of other things to do at the beach. For example, children aged ten and older can learn scuba diving from our partners, Stay Wet. Standup paddleboarding (SUP) is a wonderful option for kids who know how to swim when the sea is calm.
Children can partake in football (soccer) and beach volleyball games on the beach. There's room to explore and play all day.

Splashing Fun at the Waterpark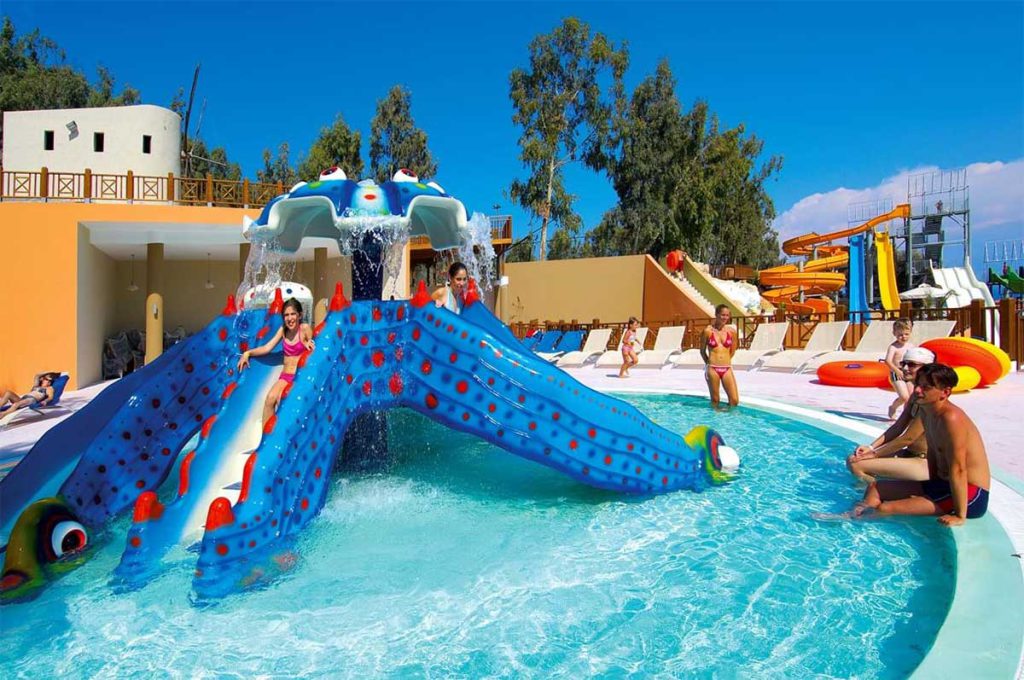 The waterpark is the main attraction for children staying at the resort. They get to spend hours on the slides, enjoying the thrills, the sun, and tasty snacks at the waterpark pool bar: hot dogs, fruit, cookies, and more. Just remind them to come to have a bite and drink plenty of water: the slides are so fun, they might forget.
There are seven thrilling slides at the waterpark – and the ones suitable for kids are:
Body Slide: Look for the bright orange water slide near the water park entrance. This slide is suitable for children and parents to enjoy a splashing adventure together.
Racing Slide with Three Tracks: A white, three-track racing slide, suitable for children aged six or older, teens, and adults alike.
The speed adrenaline-rushing slides are suitable for little daredevils over ten if they are good swimmers.
Toddlers will enjoy the "Octopus" with mini waterslides and a "Mushroom" with water sprinklers for more happy giggles.
The park has competent staff supervising the slides and the pools.
Children's Club
Suitable for small children, the fenced club has a clubhouse where kids can play board games or partake in organized educational activities. In addition, there are slides, swings, and a small sand soccer court outside. If you need babysitting services, this is where your children will play under an adult's supervision – please request a babysitter at the reception.
Besides all these activities and facilities, there are many other opportunities for children's entertainment: archery, minigolf, organized water games in the main pool of the resort, and a mini-disco and family-friendly entertainment every evening.
Finally, even the food served in our main restaurant has healthy foods and snacks children will love every time. So, what does summer mean for our little friends? At Fodele Beach & Water Park Resort, it is a never-ending worry-free vacation full of fun, laughter, games, and many surprises.