At Fodele Beach & Water Park Holiday Resort, we understand the importance of providing exceptional facilities for children. That is why we take pride in our Kids Club – suitable for children four to twelve years old and open daily from 10:00 to 18:00, designed to offer an unforgettable experience for our little guests. With an array of excellent children's facilities, we ensure every child's holiday is a bundle of joy, excitement, and endless fun. From engaging activities to dedicated staff members, our Kids Club is the perfect place for children to create lasting memories while parents enjoy a well-deserved break.
Fodele Beach Kids Club
At Fodele Beach & Water Park Holiday Resort, we understand that a family vacation is not just about relaxation and fun for the parents; it is also about providing a pleasant and memorable experience for the little ones. We take pride in our exceptional Kids Club, designed to keep children entertained and engaged throughout their stay. Featuring a wide range of activities, age-appropriate facilities, and qualified staff, our Kids Club ensures that children have a fantastic time while their parents can fully enjoy their vacation.
Kids Club Activities
Our Kids Club offers diverse activities catering to different age groups, ensuring that each child finds something they love. From arts and crafts to sports and games, our dedicated team of animators organizes daily programs to keep the kids entertained from morning to evening. Whether it is a treasure hunt on the beach, a mini disco, or a friendly competition, there is never a dull moment at our Kids Club.
Age-Appropriate Facilities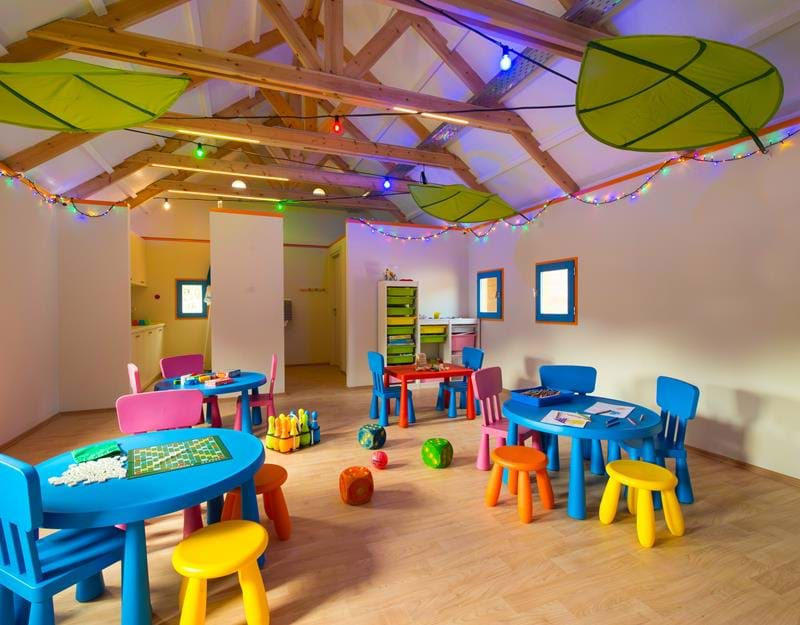 Safety is our utmost priority, so our Kids Club features age-appropriate facilities designed to provide children with a secure and enjoyable environment. We have separate play areas for different age groups, ensuring that each child can engage in activities suitable for their age. Our facilities include:
A dedicated toddler section with soft play equipment.
A fenced-in outdoor playground with swings and slides.
Indoor play areas with tables and chairs.
A mini pool for water activities.
We have thoughtfully designed every aspect of our Kids Club to ensure that children of all ages have a fantastic time.
Qualified Staff
We understand the importance of having well-trained and caring staff to care for your little ones. That is why our Kids Club team consists of qualified professionals with a genuine passion for working with children. Our staff members will create a safe and nurturing environment where children can explore, learn, and have fun under their supervision. With their expertise and friendly approach, our staff ensures that every child feels comfortable at the Kids Club.
The Fodele Beach & Water Park Holiday Resort Kids Club is a fantastic destination for families looking to provide their children with a truly unforgettable vacation experience.
With its excellent children's facilities and a wide range of activities tailored to suit kids of all ages, the club ensures that every child is well taken care of and thoroughly entertained throughout their stay.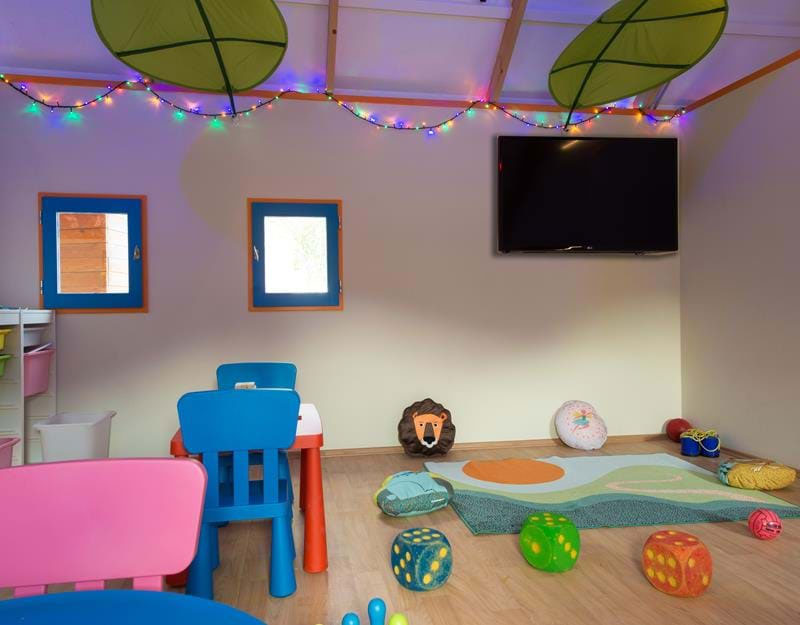 A welcoming atmosphere: From the moment they step foot in the Kids Club, children will be greeted by friendly and qualified staff members dedicated to ensuring their safety and happiness.
Always something fun to do: The talented animation team introduces children to a range of arts and crafts, themed activities, face painting, quizzes, contests, puzzles, board games, singing, dancing, local history, and more. Our young visitors can also have fun playing interactive video games, arcade games, beach games, and engaging in various imaginative activities.
Plenty of room to play safely: With spacious and bright playrooms, outdoor playgrounds, and even a dedicated pool area, children have plenty of space to run, play, and make new friends in a safe and supervised environment.
Always well cared for: Parents can also have peace of mind knowing their children are safe. The Kids Club staff are trained to handle any situation that may arise, ensuring that every child feels comfortable and secure throughout their time at the resort.
With its excellent children's facilities, dedicated staff, and a wide range of activities, our resort caters to the needs and interests of its young guests, making it a winning choice for families looking to create lasting memories together.