Fodele Beach & Water Park Holiday Resort welcomes guests with a unique, newly refurbished collection of upscale suites, all fitted with modern amenities, including high speed, fibre optic Wi-Fi, air conditioning, in-room coffee and tea station, refrigerator, complimentary bath toiletries, beach towels, flat screen HDTV, and more.
Our village-style resort rests on the slopes of a hill above the Cretan Sea, overlooking carefully manicured gardens with swaying palms and a private beach. All rooms and suites have an all-inclusive regime; however, VIP suites and the Presidential Suite offer exclusive advantages and a plus of luxury.
Family Suites
These elegant, ultra-spacious rooms have inviting decor and quality furnishings, ideal for extended holidays in Crete. Large floor-to-ceiling sliding windows opening to a private terrace overlooking a beautifully manicured garden full of exotic plants allow plenty of natural light in the suites.
Shall you want to sleep in late, there are heavy curtains that will allow you to block the bright morning light, giving you all the comfort you need for a good rest.
The family suites have a queen-size bed for the parents, while children enjoy a separate room with two single beds. In addition, there are two bathrooms stocked with complimentary toiletries and plush towels.
The entire family can enjoy in-room entertainment and access essential amenities like a coffee and tea station, mini-fridge, and a minibar replenished daily.

VIP Suites
The VIP suites at Fodele Beach & Water Park Holiday Resort offer ample space and luxurious furnishings, complete with dedicated living and dining areas enhanced by tasteful colour accents and aesthetic decor with plants and unique artwork.
Your stunning VIP suite commands more than 90 square meters of coveted accommodation and access to a large veranda furnished to offer you a private space to relax and take in the breeze.
The suite flaunts two bedrooms with wood flooring and two en suite marble bathrooms with luxe vanities, toiletries replenished as needed, plush towels, and a Jacuzzi tub complete your VIP experience.
The VIP suites are some of the most sought-after accommodation options at Fodele Beach & Water Park Holiday Resort, and only a limited number are available to reserve.
Presidential Suite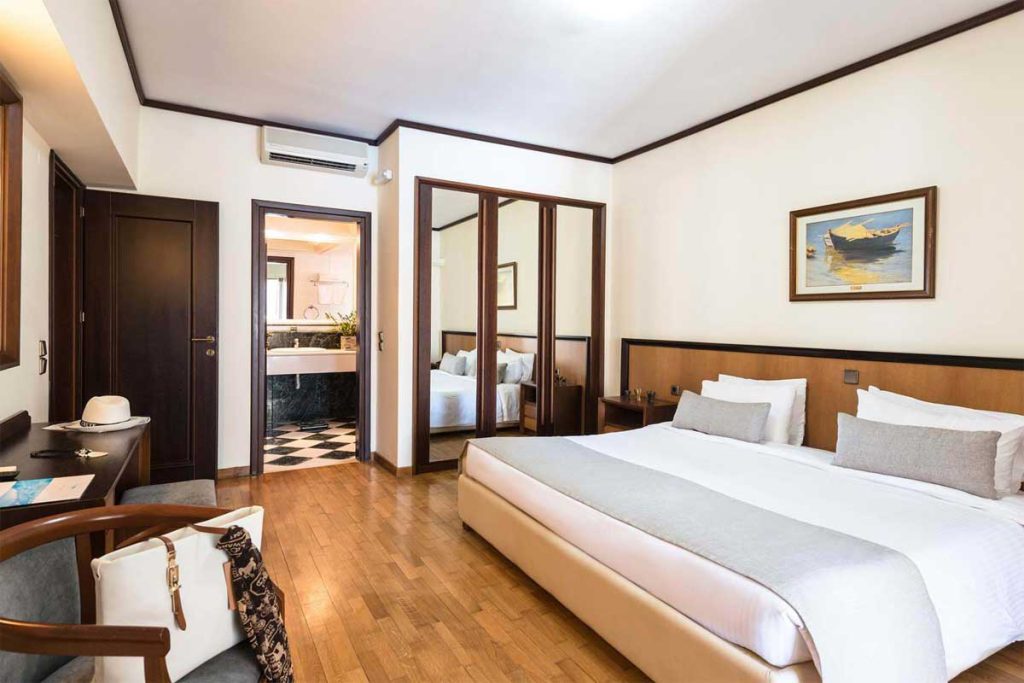 The Presidential Suite at Fodele Beach & Water Park Holiday Resort offers an experience unlike any other. It spreads over two stories offering exquisite interiors created purely for your comfort and enjoyment.
On the ground floor, you will find a large bedroom with a queen-size bed draped in premium linen. Here you will also find an ample living room area, a dining room, the bar corner, and your office, plus a fully equipped kitchen with first-class appliances that makes this suite ideal for extended stays.
If you entertain guests in your Presidential Suite during your stay, they can use the private bathroom on the ground floor.
What makes the Presidential Suite the most coveted type of accommodation at Fodele Beach & Water Park Holiday Resort is the private pool and veranda, where you will find sun loungers and parasols to enjoy sunbathing and swimming in total privacy.
On the second story, you will find another bedroom and a Jacuzzi for endless moments of relaxation without leaving your suite.
The Presidential Suite is the epitome of luxury when you stay at Fodele Beach & Water Park Holiday Resort. You will find a plethora of complimentary amenities that are not available with standard all-inclusive packages.
Standard and Luxury Suites
You will also have a choice of standard and luxury suites if you missed your chance to book a VIP suite or the Presidential Suite. These are spacious, offering all the comforts you need for an unforgettable holiday in Crete.