Gently caressed by shimmering blue waters, our hotel's beach is a blissful nature getaway where the Pantomantris (Fodelianos) river meets the sea. The river separates the beach in two: east and west, where the east is public, and the west is managed by Fodele Beach & Water Park Holiday Resort.
Here, you can connect with the great outdoors while enjoying active pursuits or lingering moments soothed by the sound of the water lapping on the shore and the gentle breeze.
Activate "lazy-mode" at the Frankie Beach Club:
Sip on virgin cocktails.
Nibble on seasonal fruit.
Have a luxe experience enhanced by unique tropical flavors and unforgettable memories of the Cretan Sea at the Bay of Fodele.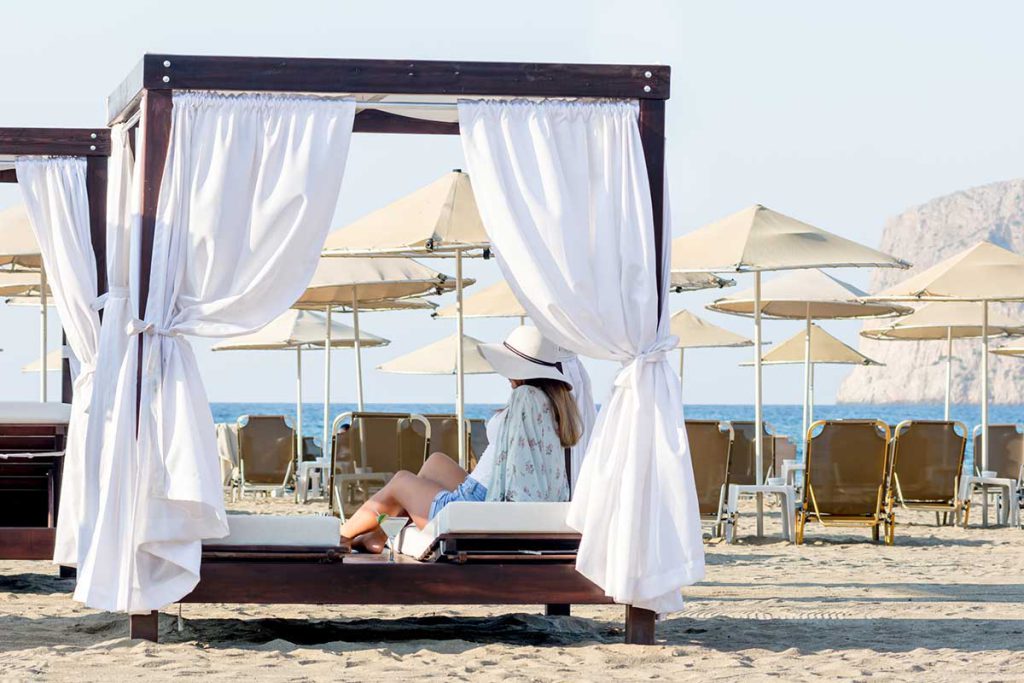 You have plenty to do at the beach. Here are some examples:
Reconnect with the sea on your terms while canoeing along Fodele's bay. While you take in the seascapes and the breeze, you'll also enjoy the full benefits of canoeing, improving your cardiovascular fitness and muscle strength (torso, arms, and legs).
Glide on the sea on a SUP board and leave all your worries behind. Stand-up paddleboarding is a low-impact workout that helps reduce stress levels, boosts cardiovascular fitness, improves balance, and offers the ideal environment for meditation and introspection.
Wakeboarding is a challenging sport if you have little experience on a board or if the helmsman has little boat driving experience. But if you are already familiar with the sport, you have nothing to worry about in Fodele. You'll get equipment and skilled helmsmen to wakeboard on the waves of the Cretan Sea.
Flyboarding is an adrenaline-filled sport that takes skill, stamina, confidence, and balance. You should also be familiar with acrobatics and diving. Experienced wind and kite surfers and waterskiing individuals should have no issues trying flyboarding for the first time.
Rent a jet ski and ride the waves! One word of caution: stay away from the shore because experienced swimmers and snorkelers may adventure far from regulatory markers.
Several other active water pursuits are available while enjoying our hotel's beach: banana rides, fly fishing, Ringo rides, etc. But, of course, swimming and snorkeling are safe in these waters, especially when supervised by a lifeguard on duty from July to September.
Many scuba divers favor the sea surrounding Crete for its marine biodiversity and unique underwater treasures. What you can expect when you dive with Stay Wet Diving Center from Fodele Beach & Water Park Holiday Resort are volcanic reefs, corals, underwater caves, stone arches, shipwrecks, a 400-year-old anchor, sponges, shells, Messerschmitt Me-109 (the wreck of a WW2 German aircraft), and the Shrimps Cave in Hersonissos, among other attractions.
Suppose you are not a water adventures fan. Worry not: you have much to experience on our hotel's beach. Just walk in the sunset or gaze at the starry skies. Play beach sports – like volleyball or football (soccer) – and have fun. Build a sand castle. Play badminton. Watch out for activities organized by our entertainment team to make your beach experience even more enjoyable.
That's not all. Walk barefoot in the Fodelianos river and enjoy the freshness of the running water on your feet. It's colder than the sea because it comes from the mountains. The heavy winter's heavy rainfall makes the river's flow more abundant. In summer, you are likely to see a stream; however, if you are patient enough, you can still observe waterfowl. Please, mind the fragile local ecosystem and leave only footprints. Please note: our guests enjoy complimentary use of sunbeds and umbrellas, while the hotel also provides beach towels. In addition, refreshments and snacks are available at the beach bar, all part of your all-inclusive package.