Frankie Beach Club is impossible to miss when you head to Fodele Beach & Water Park Holiday Resort's well-groomed private Blue Flag beach. Shoes and shirts are optional, as this is the spot to grab a quick drink before you head back to your sunbed to take in the sun, the breeze, the taming sounds of the waves, and the cheerful murmur of children playing on the beach.
For a luxe experience, book a canopy beach bed and press a button to call the waitstaff to take your order. It is the best experience you will have: lay down on a cosy outdoor mattress with a good book while waiting for a refreshing cocktail, an ice-cold beer, a power drink, or a chilled juice. It is the most pampering experience available at Frankie Beach Club, and the number of canopy beach beds is limited, so book in advance.
Enjoy the Frankie Beach Club experience from a private beach pergola, where you can sit down with friends and family, sip smooth libations, and have a snack. We recommend the incredible seasonal fruit platters for a healthy dose of five a day. Then, pair your snacks with one of our signature cocktails to treat your tastebuds with tropical flavours.
While sitting at a table on the deck facing the sea, you will also appreciate the club's convivial, approachable atmosphere. You can choose from alcoholic and non-alcoholic drinks, and if you feel peckish, you will have a choice of light snacks, perfect for a day at the beach.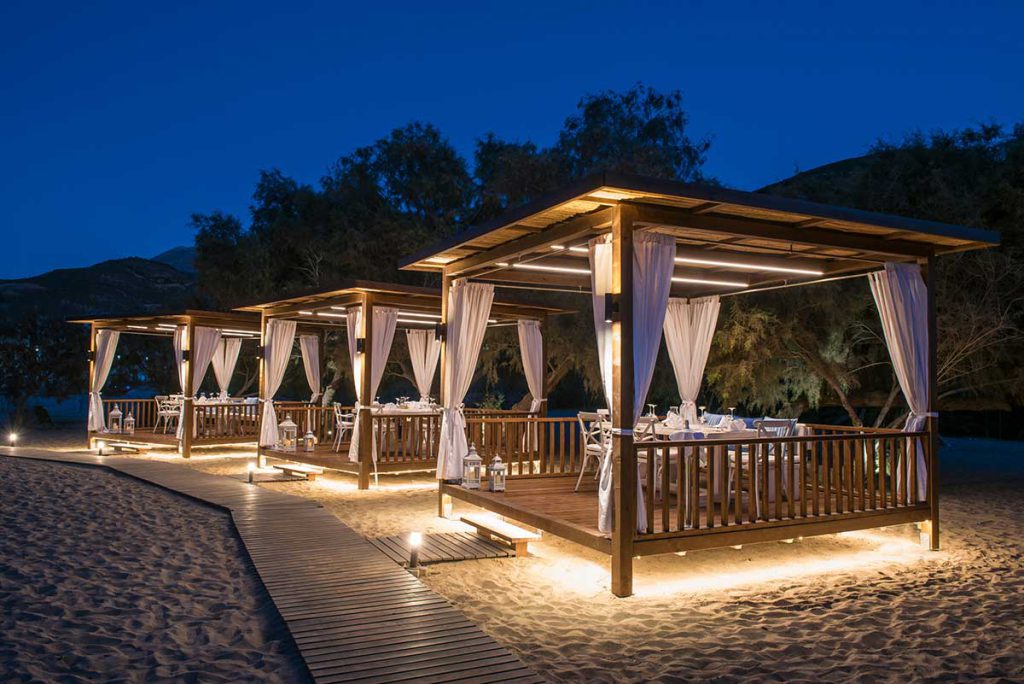 When it comes to high expectations, Franki Beach Club's mocktails are legendary:
Virgin Mojito: fresh lime, mint leaves, brown sugar, well-chilled soda with optional tropical variations like passion fruit, mango, pineapple, or strawberry.
Negroni: Seedlip distilled non-alcoholic spirit, Martini Vibrante non-alcoholic Aperitivo, and bitter flavours.
You will find a choice of premium ingredients in our alcoholic cocktails, too: Monin gourmet flavoured syrups, Metaxa 7 Stars Greek wine brandy, Tanqueray London Dry Gin, Havana Club Anejo Reserva rum, Don Julio Blanco tequila, Jameson Black Barrel Irish whiskey, etc.
Try our signature Greek High Ball cocktail, with its premium Metaxa 7 Stars wine brandy, ginger ale, and the tang of Paragon Timur Berry – the Nepalese pepper harvested from Zanthoxylum armatum trees (winged prickly ash or rattan pepper).
If you are not into cocktails or long drinks, you can enjoy top-shelf liquors by the glass: vodkas, gins, rums, and whiskeys.
We recommend you try the Grace Gin, a high-grade hand-crafted spirit made in Greece, distilled on Evia Island, and the brainchild of three Greek friends, Lila, Hara, and Katerina. The Three Graces appearing on the label inspired the name of the gin. The graces are the Charites of Greek mythology: Aglaea ("Shining"), Euphrosyne ("Joy"), and Thalia ("Blooming").
Frankie Beach Club also serves excellent Greek beers and Strongbow ciders. If you prefer non-alcoholic beverages, try a novelty tonic or a freshly squeezed orange juice high in antioxidants and vitamin C. And nothing beats a sip of natural mineral water on a sweltering day.
As we said, Frankie Beach Club is impossible to miss and hard to resist. It is one of our guests' favourite spots. This place will enhance your Fodele Beach & Water Park Holiday Resort with unique tropical flavours and unforgettable memories of the Cretan Sea at the Bay of Fodele.