When in Crete, September is the month to enjoy freshly harvested grapes and a variety of dishes that feature the fruit of the month.
The grape is versatile: you can enjoy it fresh, roasted, turned into a delectable spoon sweet, in salads, as a yogurt topping, etc. Then, you can squeeze the juice to drink fresh or use it to make syrup.
And we all know what happens with fermented grape juice: under the right conditions, it turns into a fantastic wine.
Here are some recipes with grapes, the fruit of September, to inspire you to use these fruits in your cooking.
Roasted Grapes Recipe
This Greek-style roasted grapes recipe is fast and easy to prepare. All you need are seedless grapes, olive oil, Metaxa brandy, fresh or dried thyme, and salt. Note that the ingredients – other than the seedless grapes, olive oil, and salt – may vary depending on Greek regions and family recipes.
Ingredients:
500 grams of seedless grapes
3 tablespoons extra virgin Cretan olive oil
2 tablespoons Greek brandy
1 teaspoon dried thyme or a sprig of fresh thyme
salt to taste
Method:
Preheat the oven to 180°C. Prepare a tray lined with baking parchment.
Wash the grape berries thoroughly after you remove them from their rachis. Pat them dry with kitchen towels. Then, toss the berries with all the other ingredients in a large bowl until they coat well.
Place the grapes on the tray, then in the oven and roast at 180°C for 30 minutes until the berries begin to burst.
You can use roasted grapes in salads and topping for Greek yogurt, crostinis with goat cheese, and cheese saganaki. An example of how to use roasted grapes is the Greek Salad with Rusks, Roasted Grapes, Aegina Pistachios & Arugula by Greek chef and book author Diane Kochilas.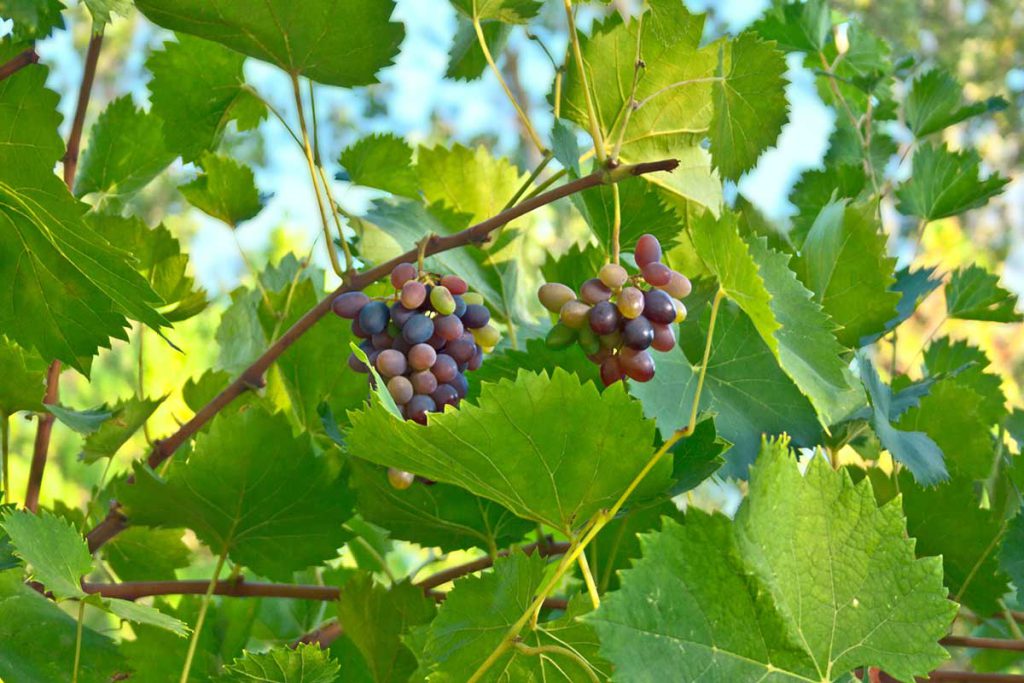 Grape Spoon Dessert
Greeks love spoon desserts. They make them from all fruits and tomatoes (technically fruits and not vegetables). The grape spoon dessert is glyko stafyli, and you can easily make it at home to enjoy or give it as a gift. Glyko stafyli is traditional in many Cretan households. If you vacation on Crete Island in September, you will likely receive it as a complimentary dessert in a taverna after your meal. Glyko stafyli is also available in supermarkets and souvenir shops that sell Cretan specialties. Note that the method of making glyko stafyli varies by region or family recipes.
Ingredients:
500 grams of seedless grape berries
350 grams granulated white sugar
100 millilitres of water
freshly squeezed juice from one medium-sized lemon
vanilla, cloves, rose geranium, or rose extract to boost the flavour
Method:
Wash the grape berries thoroughly.
In a non-stick cooking pot, add 100 millilitres of water, the grapes, and sugar in layers, then top with the lemon juice.
Let the pot sit for up to twelve hours until the grapes release their juices. You will hear the liquid when you shake the pot.
Place the pot on medium heat on the top of the stove. When it begins to boil, turn the heat to low, cover the pot with a lid, and allow it to simmer for 40 minutes, occasionally stirring to ensure that the grapes and sugar don't stick to the bottom.
Remove from heat and allow the spoon sweet to rest overnight.
The next day, bring the sweet back to a boil, adding your favourite aroma booster (vanilla, cloves, rose geranium, rose extract, etc.). Simmer for up to ten minutes until the syrup has the consistency of honey.
You can now place the sweet spoon into sterilized jars for preservation.
You can consume glyko stafyli as is or use it as a yogurt topping, top cheesecake, filling in pastries, and so on. A Greek grape sweet spoon variant is available at The Hellenic Odyssey, authored by Cretan native Kelly Michelakis.

These are the simplest recipes using grapes, the fruit of September. When you visit Crete, you will find moustos (grape must) and petimezi (grape syrup or molasses). They are must-tries but overly complicated and time-consuming to make at home. However, you can find a petimezi recipe here if you want to try it. Go to a Cretan bakery and ask for moustokouloura (grape moustos cookies), which might be available during the fall season. And do not be surprised to find fresh fruit in abundance at every farmers' market. They will also be at your table at the end of your meal as a complimentary dessert in every taverna.