Every time you stay at you will enjoy a refined dining experience, as we offer no less than four different venues for a culinary journey that makes your holiday truly special.
Our main restaurant Amadeus
Amadeus serves breakfast, lunch, and dinner every day. It is a casual environment decorated in the traditional Greek style, offering a generous buffet that allows you to eat just what you like. You can load your plate with fresh vegetables, fruit, cold dishes, and warm specials. The restaurant hosts different thematic evenings every week, introducing ethnic cuisines specific to countries like Spain, Mexico, Japan, China, Italy, and so on. At the main restaurant, you will enjoy spelling views of the sea too.
Ambrosia a la Carte
Striking the perfect balance between classy and casual, Ambrosia a la Carte is a sophisticated evening restaurant with contemporary-chic decor and a menu to inspire even the most demanding foodies. The menu features dishes inspired by the finest international favorites with a special focus on Italian faves.
Elia
Elia is a haven for lovers of authentic Greek cuisine. The restaurant, which is open for dinner only, gets very busy despite sitting over 125 guests. The best seasonal ingredients are carefully selected and blend to offer a Cretan dining experience like no other.
"F" all day restaurant
"F" is your choice for all kinds of snacks, pizza, pasta, salads, and desserts. It's an all-day restaurant that makes your all-inclusive experience at Fodele Beach & Water Park Holiday Resort even more appealing. The restaurant can accommodate more than 250 and it boasts an extensive terrace with amazing sea and resort pool views.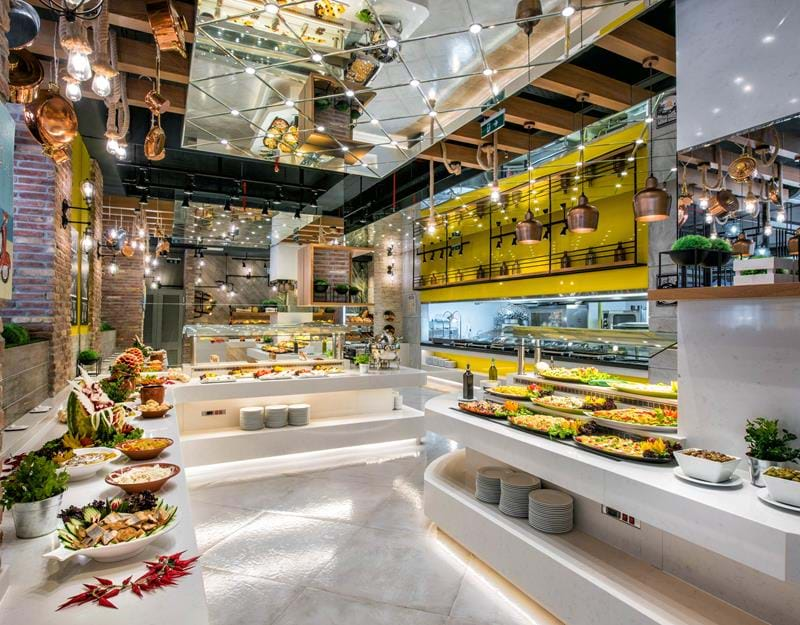 Besides our restaurants, we offer you a choice of snacking ops in our bars. See what you can find at Fodele Beach & Water Park Holiday Resort here.