Cretan products are famous for their exceptional quality and have gained a distinguished place in the international market, but still, the widest collection of Cretan products is found in… Crete! However, a wide selection also means confusion, as you will have to search for the best of a kind from many choices. For this reason, the EU created distinction and certification labels to ensure that consumers can easily recognize authentic products from the plethora of similar goods in the market.
So, when you are out in the Cretan market for a shopping spree, search for the EU labels PDO (Products of Protected Designation of Origin) and PGI (Protected Geographical Indication), assigned to products with unique quality characteristics and produced in a specific way within a defined geographical area. Both labels ensure that a certain product is originally Cretan with certified quality characteristics.
So, which are the most common PDO and PGI Cretan products should you look for?
PDO & PGI Olive oil
Crete is leading the olive oil production -and consumption- in Greece, with about 35 million trees covering 65% of its agricultural area. The majority of the olive oil produced in Crete is extra virgin from the "Koroneiki" and "Tsounati" olive varieties. Olive oil is the basis of Cretan diet and famous worldwide for its incredible flavor and antioxidant properties that boost human health. Today in Crete there are about eleven types of olive oil that have been recognized as PDO or PGI products, so you still have a wide variety to choose from!
PDO Cretan cheese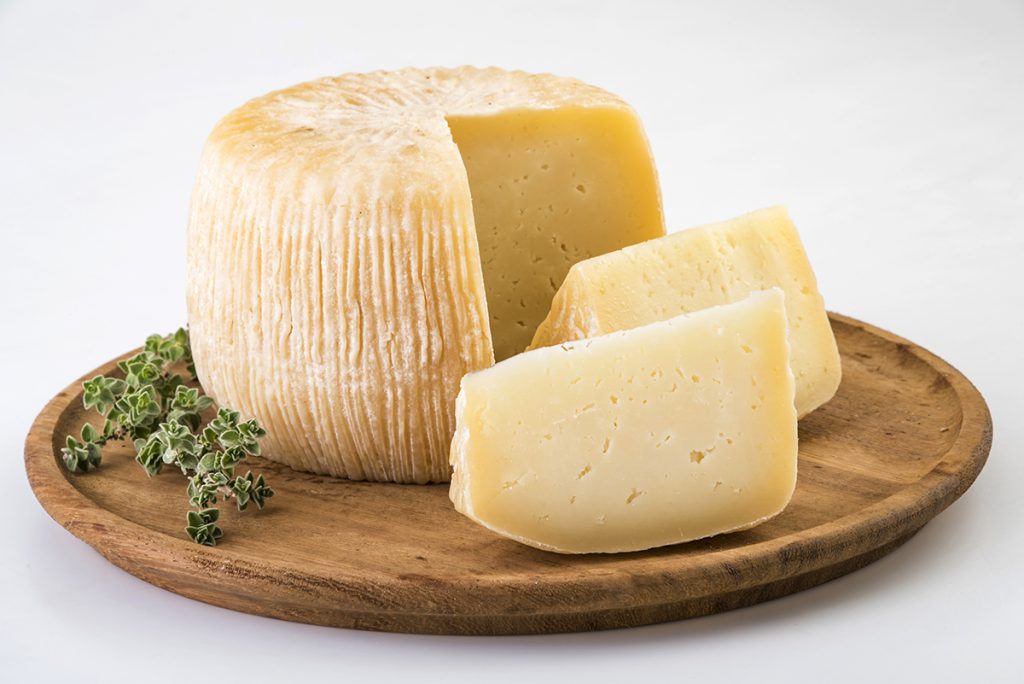 Cretan cheeses stand out for their exceptionally rich flavor thanks to the high quality milk and the traditional methods used in its production. Cheese-making has a long tradition in Crete, especially in mountainous areas, where animals roam the Cretan mountains freely and feed from aromatic herbs. Sheep and goat milk are commonly used to make delicious Cretan cheese in various proportions. The most popular Cretan cheeses that are recognized as PDO products are Graviera (hard yellow cheese with piquant flavor); Xinomizithra (sweet & sour soft white cheese); Pichtogalo (soft, spreadable cheese with a yogurt-like texture); and Xigalo (soft white cheese spread).
PDO & PGI Wine
Wine has been an integral part of the Cretan diet for a very long time, as archaeological findings from the Minoan era suggest. In fact, it is now believed that the vineyard has been cultivated in Crete for about 4,000 years. Crete has excellent native varieties and the ideal climate to grow healthy vineyards, making the PDO & PGI wines of the island truly exceptional. The most renowned white varieties of Crete are: Vilana, Vidianos, Dafni, Thrapsathiri, Malvasia di Candia, Moschato Spinas, Piltos. Among red varieties, the most famous are: Kotsifali, Liatiko, Mandilaria and Romeiko.
PGI Cretan rusks – "Paximadia"
When you are in Crete you will probably try paximadia (Cretan rusks), a hangover from times when bread needed to be preserved for a long period of time. Cretan rusks are often topped with fresh, trimmed tomato, oregano, olive oil and crumbled xinomizithra or feta cheese, making the famous Cretan dish "Dakos". Cretan rusks are produced without any preservatives and are high in fiber, making it a healthy product and a delicious alternative of bread. You will find a great variety of Cretan rusks in the market and it is the easiest product to carry back home and enjoy for a very long time!