As the seat of the University of Crete, Rethymno has a young, vibrant feel and entertainment opportunities galore for students and their peers. This is not to say that the city doesn't offer romantic venues and opportunities for families to spend quality time while they vacation on the island. Rethymno itself is the capital of the greater regional unit of the same name. If you plan a beach holiday in Crete with your family, this area has plenty of destinations to choose from, including famous beaches.
Top 5 Family-friendly Beaches in Rethymno
1. Bali Beaches
Bali is a seaside village built on Astale – a former Roman town of ancient Crete, the harbor of city-state Axus. During the Venetian occupation, the settlement was called Atali. During the Turkish occupation, the name changed to Bali – either from the Turkish word balli, meaning honey (the area was rich in beehives), or ballik, which means fish.
Bali is today a popular tourist destination, flaunting four beautiful beaches with calm waters and excellent conditions for families vacationing with children.
Livadi Beach is the longest of the four family-friendly beaches of Bali. It lies in an open bay, and it attracts many visitors every season. You will find sun loungers and umbrella rentals, as well as tavernas serving comfort food and refreshments.
Varkotopos is in an enclosed bay. It is smaller than Livadi but still jam-packed and favored particularly by families with young children because it has shallow water. You will find all the necessary amenities and facilities for a pleasant day in the sun here too.
Limani is the beach of the harbor of Bali. It is clean and well organized, offering access to excellent restaurants and shopping.
Situated in a small bay, Karavostasis is the most scenic beach in Bali. Despite its small size, Karavostasis counts as a favorite for tourists and locals alike. Summers tend to get busy, so arrive early if you want to rent a sun lounger.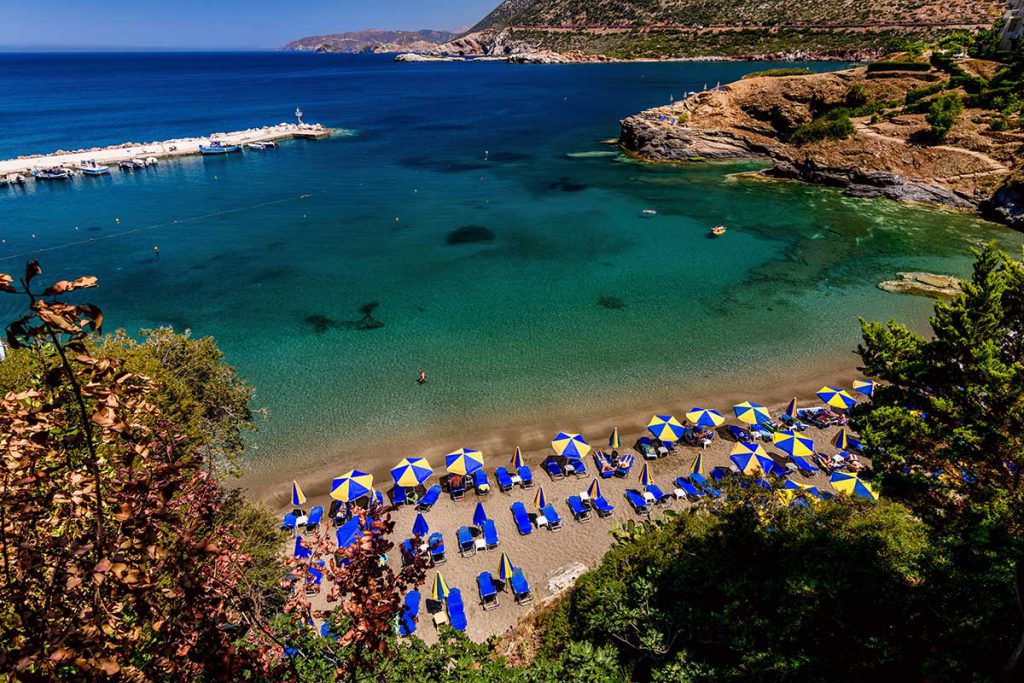 2. Rethymnon Beach
Rethymnon Beach is the largest city beach on the island. You can access it with ease, and you will find comfort, room to play, excellent watersports facilities, sun loungers, and umbrella rentals, showers, toilets, beach bars, and tavernas serving fresh food and drinks. This beach is within walking distance from shopping, sights, and accommodation too. The beach offers enough room to play for the little ones. The swimming conditions are usually excellent, with several lifeguards scrutinizing the swimmers. When windy or too wavy, the lifeguard flags show how safe is for you to be in the water.
3. Perivolia Beach
A continuation of Rethymnon Beach, Perivolia Beach has fine sand and clear water – however, note that there are several rocks around the shoreline, so proceed with care. It has enough room for the little ones to play and even a playground. Several watersports opportunities are available, and local gastronomy establishments offer sun chairs and umbrella rentals, plus food and refreshments.
4. Panormos Beaches
Despite the tourist boom, a small seaside village maintains its traditional Cretan character; Panormos boasts two beaches with clear water and excellent conditions for families with small children.
Limanaki is the harbor beach of Panormos. It offers fine sand, clean and calm water, umbrella and sun loungers for rent, showers, watersports, and good dining options.
Limni is 200 meters west of Panormos. With fine sand and calm waves, it is more scenic than Limanaki and offers access to a small cove with a pebbly beach.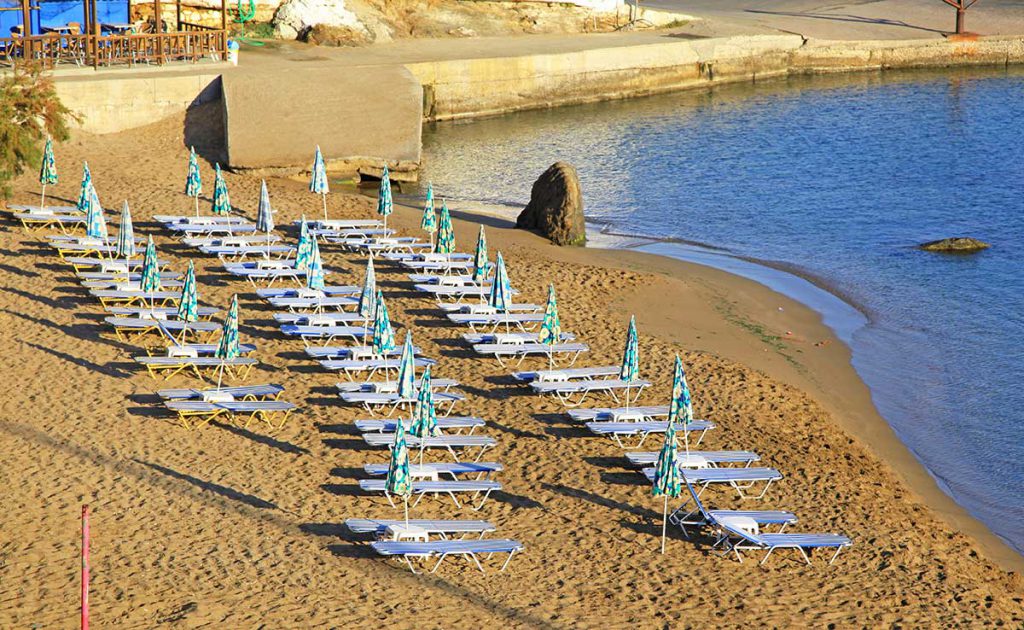 5. Damnoni Beach
Some 35 kilometers south of Rethymno city, Damnoni Beach is a scenic, long beach with sand and pebbles and crystal-clear water that deepens quickly. The kids have enough room to play while adults can relax on sun loungers available to rent from local tavernas. Other facilities include showers and restrooms. This beach is popular for watersports like windsurfing, catamaran sailing, waterskiing, and scuba diving. The best-organized area of the beach is at its west, by a lovely bridge that crosses a stream. The landscape here, dominated by small palm trees, is charming.
These are five of the most popular family-friendly beaches in the Rethymno regional unit of Crete. Sure, more famous beaches like Preveli, Triopetra, and Geropotamos are also an option, but because access to them is challenging even for adults, visiting them with kids – especially toddlers – may not always be a good idea. Regardless of where you choose to go at the beach, don't forget your essentials for the little ones: sunscreen lotion, beach footwear, water shoes (especially for beaches with rocks at the bottom of the sea), and drinks. Enjoy the Cretan summer with your little ones!