A destination on its own right, Crete's most emblematic gorge offers an unforgettable experience in a one-of-a-kind landscape with stunning views. Samaria gorge is the longest (16km) and most famous gorge in Europe, attracting thousands of visitors every year, and a must-see if you are a lover of nature and adventure. The entrance of the gorge is situated at the beautiful Plateau of Omalos and ends after about 5-7 hours of walk in the striking beach of Agia Roumeli with crystal clear waters. The good news is that no previous experience is needed to cross it, and the trail is accessible even to kids. However, because of the long distance, it can be quite a challenge for your legs, so be prepared!
The hike begins in an altitude of 1,250 meters in the midst of the imposing White Mountains, following a steep downhill trail for about 2km in a forested cliff. Once at the bottom and inside the ravine, the trail is more or less a straight line, passing through landscapes of exceptional beauty. Samaria Gorge belongs to the island's only National Park, a protected area where rare endemic species grow and flourish. The most famous inhabitant of Samaria is definitely the Cretan wild goat (Capra aegagrus cretica), a rare sight reserved for the few and lucky!
Apart from the amazing nature and great environmental importance, Samaria is also a unique historical and cultural site. Archaeological findings suggest that the Gorge was inhabited since antiquity, and within its borders rest the remains of Venetian castles and Byzantine temples. In about the middle of the route, you will meet the abandoned village of Samaria, which was inhabited until 1962, and the temple of St. George. Today, the old buildings are used as a forest outpost, medical center, and lodgings for researchers.
After this point, the landscape becomes drier and rocky. Shortly after, in about an hour walk, you will meet a river and the trail will take you over small wooden bridges and refreshing spots to take a rest. Finally, near the exit you will cross the so-called "Iron Gates", a narrow passage between two steep cliffs 500m high – a perfect spot to take pictures. Soon you will arrive at the modern settlement of Agia Roumeli, where you will find taverns and rooms to rent, if you wish to spend the night. If you are crossing the gorge with an organized group (recommended) and you need to catch the ferry, make sure that you arrive at least half an hour before the departure to enjoy a much-needed swim in the sublime waters of the Libyan Sea.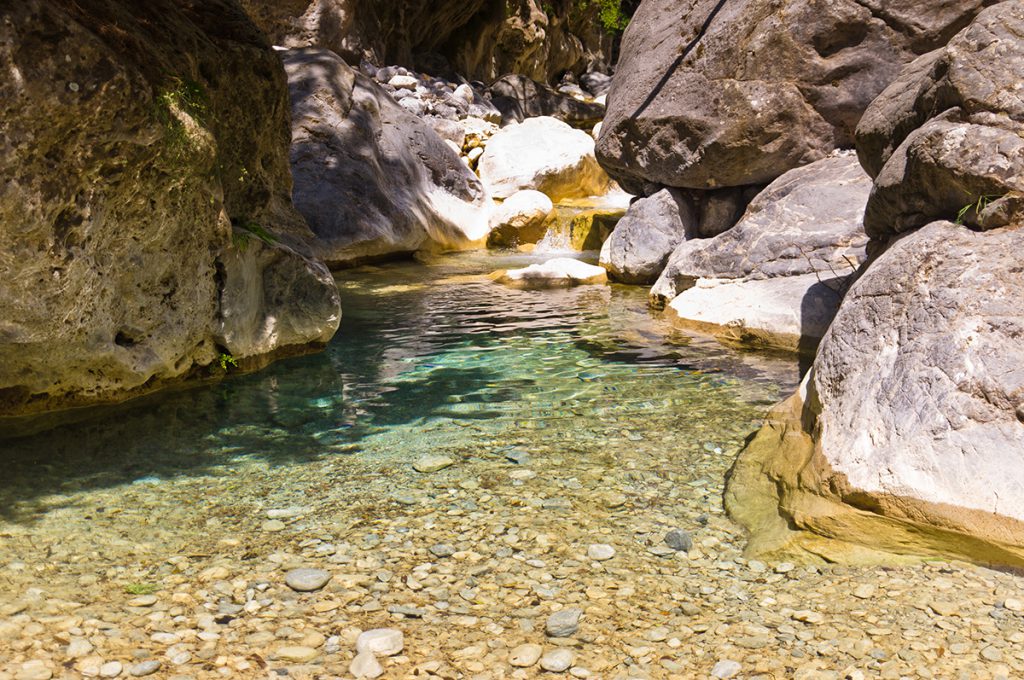 Crossing Samaria gorge can seem an easy business, as flocks of people cross it everyday, but don't get carried away and stick to the trail, as there is a danger to get lost. In order to complete the hike without pain, make sure you wear appropriate shoes (trekking or hiking shoes only), comfortable clothes and a sun hat. Don't forget to bring an extra set of clothes to change if you get sweaty, your sunblock, water, energizing snacks and your bathing suit. Along the way you will find many trees to rest under the shade, water springs to fill your bottle, and toilets. Hike safely and enjoy one of the best hikes of your life!
*The gorge is open to the public from May 1st to October 31st, and opens daily at 7:00