Crete boasts a large number of lovely beaches for every taste, but when you are traveling with young kids, you need to make sure you will find the best family-friendly amenities and a safe place for your family to enjoy a carefree day at the beach. The following 5 beaches are ideal for families and meet at least three basic criteria: they are safe, clean, and offer a variety of services that will make your day at the beach comfortable.
Fodele
Located just 30km from Heraklion, Fodele is one of the best beaches to enjoy a day at the sea with the family. The beach is sandy and well organized with umbrellas, sunbeds, and showers, while you can find water sports, cafes and taverns serving delicious food. Moreover, Fodele Beach hotel has constructed a small pier to protect swimmers from strong winds and currents. Finally, you can combine swimming with a visit to the lovely village of Fodele, located in a green valley full of citrus trees. The village is built along a river, where you will find many traditional taverns to enjoy a meal or drink under the shade of plane trees. Plus, you can visit the house of the famous painter El Greco (1541-1614) with copies of his works, as well as the historical temples of the settlement.
Bali
An all-time classic destination for families, Bali is well protected from the winds in a large gulf, 30km east of Rethymno and 43km west of Heraklion. Bali has four sandy beaches with clean, shallow waters that are almost always calm. All beaches are well organized with sunbeds, umbrellas and water toys, making them ideal for kids. Families will find all the necessary amenities nearby, from taverns and cafes to supermarkets, pharmacies, and fast-food stands. Finally, in Bali, you can try a variety of water sports and games, and even take a boat to the city of Rethymno!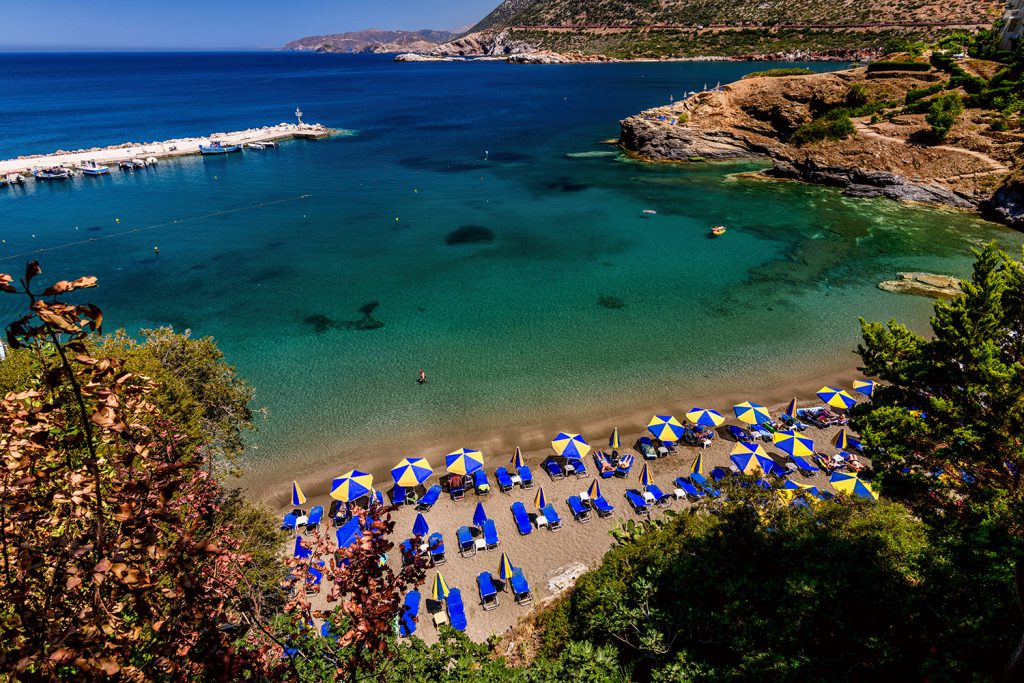 Lygaria
Ligaria is one of the nearest family-friendly beaches in Heraklion (20km from the city), attracting local families, especially on weekends. Well-protected in a bay, the sandy beach of Ligaria is well protected from winds and currents and organized with sunbeds, umbrellas, and showers. Lygaria is famous for its clear turquoise waters and the beautiful rocky landscape that encloses the beach. Here you will find several fish taverns, cafes, beach bars, and water sports. The beach took its name from the plant "osier" (lygaria in Greek), which abounds in the area.
Rodakino
Situated in the beautiful south coast of the island, 45km southeast of Rethymno city, Rodakino is one of the most family-friendly beaches of the unorganized, laid-back Cretan South. The landscape is beautiful, as the settlement is built at the exit of an imposing gorge and the beach is characterized by unique rock formations. In Rodakino you will find several calm beaches, ideal for carefree swimming with the family in crystal clear waters. The first beach you will meet has fine pebbles and is well organized with umbrellas, sunbeds, and taverns. At the eastern part of the beach, you can explore the cavernous rocks with the kids. The next beach is just half a kilometer to the west, surrounded by beautiful olive groves. This small beautiful beach is organized with umbrellas and sunbeds and has fine sand and shallow, tranquil waters, ideal for children. Plus, Rodakino is just a few kilometers away from Plakias and Fragokastelo, which are also beautiful and popular family destinations.
Elafonissi
Elafonisi needs no introduction, as it is among the most popular and most beautiful beaches of Crete. However, it is also the most family-friendly ones. Located at the southwesternmost extremity of Crete, 76km from the city of Chania. Elafonisi is famous for its amazing Caribbean-like scenery and turquoise shallow waters. Elafonisi is also a Natura 2000 protected area, with lovely sand dunes where sea daffodils (aka lilies of Knossos) and junipers grow. Therefore, it is strictly forbidden to remove any plants, animals, shells, and sand from the area.
In some parts, the water does not exceed 1m in depth, creating a small lagoon, ideal for young kids. The beach in front of the lagoon is well organized with sunbeds, umbrellas, showers, snack bars and changing rooms, completing a memorable family experience in one of Crete's most exotic beaches!