Fodele Beach & Water Park Holiday Resort is a destination for sea-lovers and sun-seekers of all ages. It caters to the outdoorsy, fun-chasing beach-goers whose taste for fun-filled adventures includes dancing barefoot in the sand, shooting down a waterslide at thrilling speeds, or just spending a lazy afternoon under the sun, in a sunbed, either on the beach or by the pool.
The resort's extensive grounds offer access to all kinds of facilities, many of them suitable for young guests. There are age-appropriate offers for each, and these are five things the little ones – preteens – will love at Fodele Beach & Water Park Holiday Resort.
Waterpark
The waterpark has slides that can be enjoyed by children accompanied by adults, as well as a particular area designed for our youngest guests, with a fun "Octopus" with mini-slides, a "Mushroom" that sprinkles water, and children's pool. A separate kids' pool for visitors aged five or under is available too. Children will love these attractions and the yummy snacks at the Windmill snack bar – especially the hot dogs. The fun train ride to and from the waterpark is one of the pastimes children vacationing at Fodele Beach & Water Park Holiday Resort enjoy too.
Animation
Our animation team cares for the entertainment of the little ones every day. We prepare all kinds of fun-filled activities, including beach parties and dance challenges, which welcome parents and children alike, as well as all guests who love a good time.
Kids' club
The kids' club at Fodele Beach & Water Park Holiday Resort offers all kinds of activities for our young guests. We have all sorts of age-appropriate games and activities, as well as video and arcade games, face painting, quizzes and contests, puzzles and board games, Cretan mythology, cookery, and much more.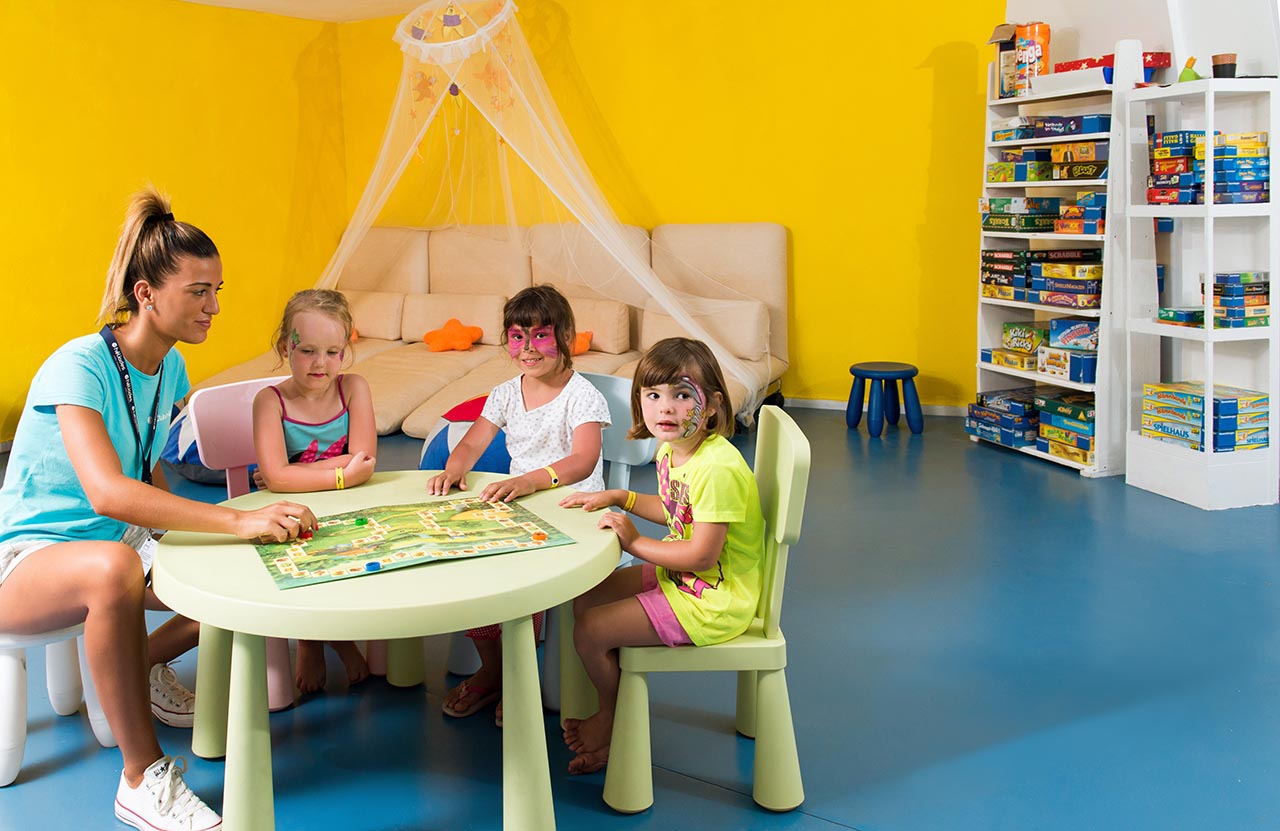 Mini disco
Six out of seven evenings every week, children can attend the carefully selected music and dance program of our mini disco, which takes place on the stage of the outdoor amphitheater before the main show of the day.
Kids' buffet corner at Basilikos
Our main restaurant, Basilikos, serves breakfast, lunch, and dinner, every day. Here, children will appreciate the specially-designed dining area that caters to their needs, with size-appropriate tables, seats, and buffet, TV sets running animated movies, and beautiful murals on the walls. We serve delicious fare, including fresh vegetables and fruit, plenty of refreshments, and even pizza, pasta, and fries, in addition to finger food. Little foodies will be bowled over.
Besides these five things children will love at Fodele Beach & Water Park Holiday Resort, there are many other activities to be enjoyed alongside parents, family, and friends. All our entertainment programme is family-friendly. Even some sports welcome participation from the little ones. For the adventurous type, we have diving lessons in collaboration with Stay Wet Diving Center (Discover Scuba lessons for children aged eight to twelve, accompanied by an instructor.)
As you can see, when you visit Fodele Beach & Water Park Holiday Resort with your little ones, they have a lot to experience and they will never get bored.