Banish preconceived notions about all-inclusive hotels before staying at Fodele Beach & Water Park Holiday Resort. The all-inclusive here is a catered experience designed to make you feel at home. Our single-price retreat offers many pampering extras, fun for kids and teens, and many activities for adults. Here are some things you can expect when you vacation with us.
Seasonal Dining
Dining is a refined component of your all-inclusive experience at Fodele Beach & Water Park Holiday Resort. We offer enough dining choices to satisfy every palate and dietary needs. All restaurants provide beverages, including water, soft drinks, juices, local beer, and house wine.
Basilikos is theresort's main restaurant, displaying a vast selection of buffet-style dishes. Expect fresh salads made with local seasonal ingredients, diverse kinds of bread, Cretan charcuterie products, Cretan cheeses and dairy, warm dishes, desserts, and fresh fruit. There's a children's dining corner with meals to tempt them and a colorful play area. The restaurant serves breakfast, lunch, and dinner.
"F" All-day Restaurant – as its name implies – offers a generous buffet from morning until six o'clock every day. Whenever you feel peckish, you can come here to fill your plate, even if you missed breakfast or lunch at Basilikos. The buffet has pizza, pasta, snacks, salads, grilled meats, fruits, and desserts. You can enjoy your meals indoors or on the restaurant's terrace overlooking the sea, the gardens, and the main pool.
Breeze Cocktail Bar in the resort's lobby is the place to enjoy all kinds of libations, starting with local beer and house wine and continuing with everything from aperitifs, liqueurs, long drinks, digestives, and cocktails, to soft drinks, juices, mineral water, coffee, and teas.
Starlight Bar: with its convenient setting by the resort's main pool, this bar is a meeting point with spellbinding views of Fodele Bay and the beach. The bar stocks tantalizing libations, ranging from raki, ouzo, local craft beers, and wines to international spirits, liqueurs, long drinks, cocktails, juices, soda, mineral water, coffee, and teas.
Frankie Beach Club is there to make your all-inclusive experience at the beach as enjoyable as possible. You can tame your thirst with cocktails, mocktails, beer, mineral water, fresh juices, and other drinks. What is more, Frankie Beach Club serves breakfast and lunch, too.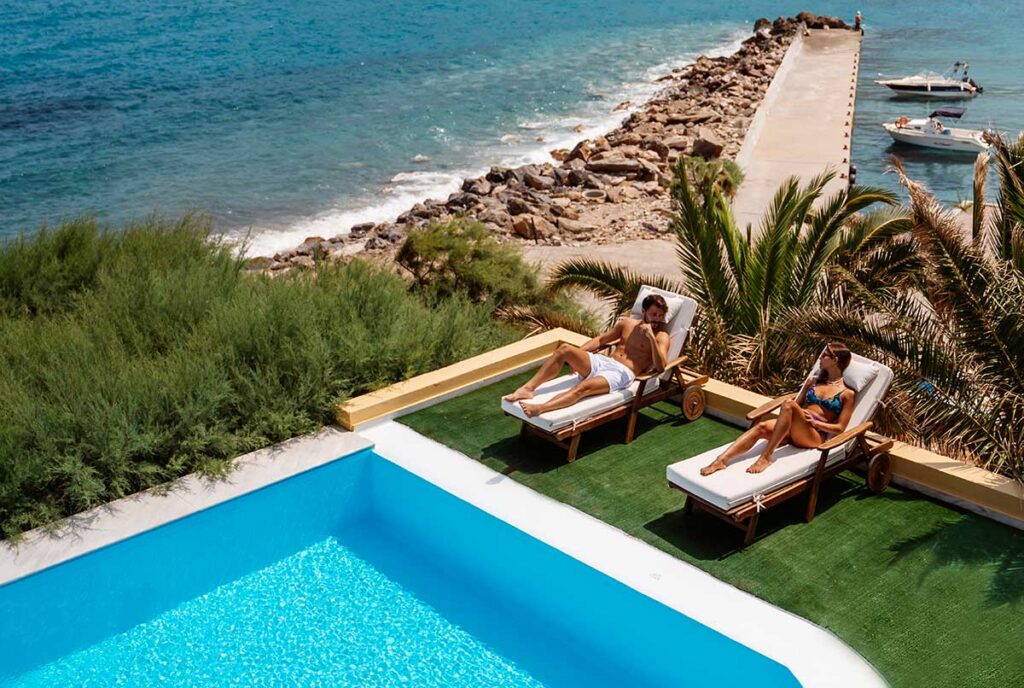 Entertainment for all Ages
There is no dull moment at Fodele Beach & Water Park Holiday Resort. There is a mini-disco for the little ones, and the resort's animation team prepares unique events every day, whether beach parties, dance challenges, or fun sports activities – you will always have something to do.
You can also watch a live show in the resort's beautiful outdoor theater, where live Greek bands and dancers will take the scene to entertain you at the end of the day. In addition, the theater hosts regular Cretan folk shows and even live pop music.
Leisure and Sports
The all-inclusive experience is complete with an array of leisure and sports activities. Here are some of them:
Waterpark: Available exclusively for guests of the Fodele Beach & Water Park Holiday Resort, the waterpark boasts seven slides and six dazzling pools, plus a play area with a shallow pool where kids can enjoy an "Octopus" with mini waterslides and a "Mushroom" with water sprinklers.
Swimming pools: You do not have to enter the gated waterpark to enjoy a refreshing dip in a pool. The main swimming pool has a generous dock to relax with a book or a refreshing drink in a cozy sun lounger. You can attend aqua aerobics sessions here and swim at ease whenever you like.
Beach: The resort's private beach offers plenty of room to relax, with sun loungers and umbrellas. The Blue Flag beach has a bar serving refreshments throughout the day. A lifeguard on duty from June to September will ensure your safety in the water.
Sports: Sports activities available in an all-inclusive regime include tennis (two courts), basketball, mini golf, volleyball (a volleyball court, and beach volleyball, of course), beach football (soccer), archery, and ping-pong (table tennis).
Games: You are never bored indoors either. The games room features billiards tables and arcade games. Children have a separate kids' club with toys and games, educational activities, creative crafts, and a skilled animation team.
These are just some things that will make your all-inclusive experience at Fodele Beach & Water Park Holiday Resort truly memorable. Stay with us for even more surprises.