Fodele Beach & Water Park Holiday Resort is a family destination like no other on Crete Island. When you stay here, you will enjoy a homely atmosphere that makes you feel at home.
We designed every room and every space of the resort to give you comfort and a sense of belonging.
Take your time to relax in a Family Suite on a terrace facing a beautifully landscaped Mediterranean garden with fuchsia bougainvillea, palms, cacti, Cretan herbs, and colourful seasonal flowering plants.
The Sea Front Family Room range offers beguiling views of the Cretan Sea, as its name implies.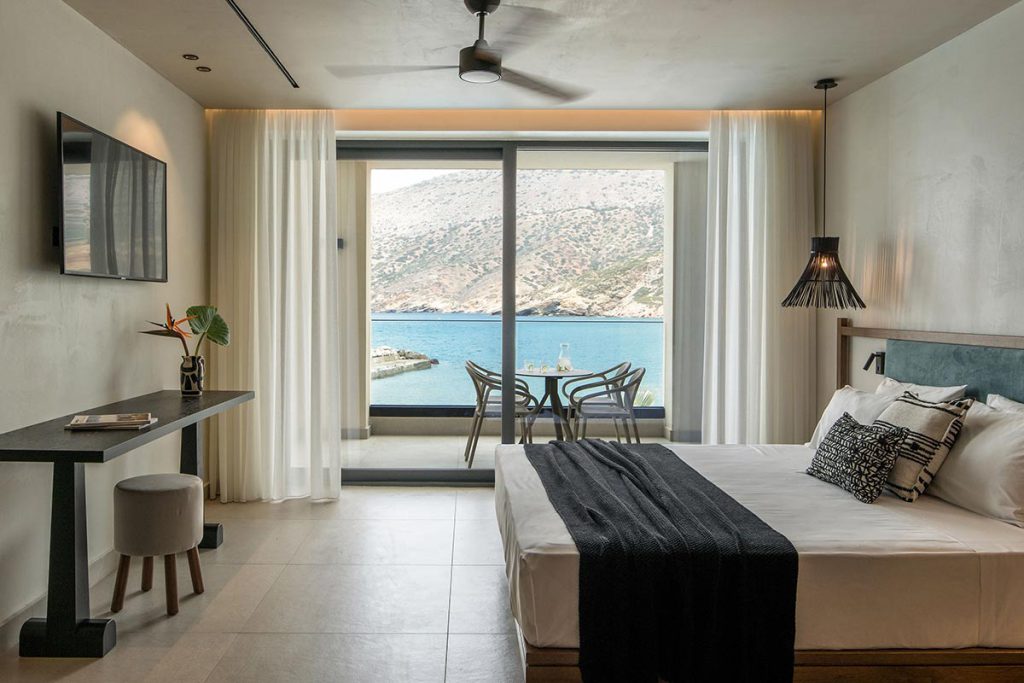 Enjoy space, comfort, and premium amenities in a Maisonette, or gaze at the twilight from our Sunset Rooms.
If you want something special, our signature collection features three room types – Zebra, Flamingo, and Vintage – each with a unique decor revealed by their names.
Our all-inclusive restaurant features a homey design, too: we spaced the tables to offer you an ample private sphere. The buffet features plenty of dishes to satisfy every palate: colourful seasonal salads, fresh fruit, warm vegetarian meals, grilled meats, traditional Cretan specials, a variety of bread, and desserts ranging from Cretan sweets to international favourites, including ice cream.
We even have a cosy children's dining area with foods the little ones enjoy – fries, pasta, pizza, fruit, ice cream, and more.
The beach bar is small but well stocked, offering alcoholic and non-alcoholic beverages in an all-inclusive regime. You can sit by the bar, get to know other guests, or take your drink to your sunbed on the beach for more intimacy.
The beach is clean and well-groomed to maintain its Blue Flag certification we pride ourselves on achieving yearly. Here you will have access to all kinds of water sports, including SUP and canoes, if you want to practice a sport that allows you to keep active and meditate simultaneously. SUP and canoeing are not sports for adrenaline buffs; they are calming and soothing.
If you seek tranquillity, the spa is an oasis of wellness and serenity, where trained staff will pamper you until you forget all your worries. Here, chase the stress of the mundane with one of the signature treatments based on Cretan herbs, honey, pure olive oil, and grapes.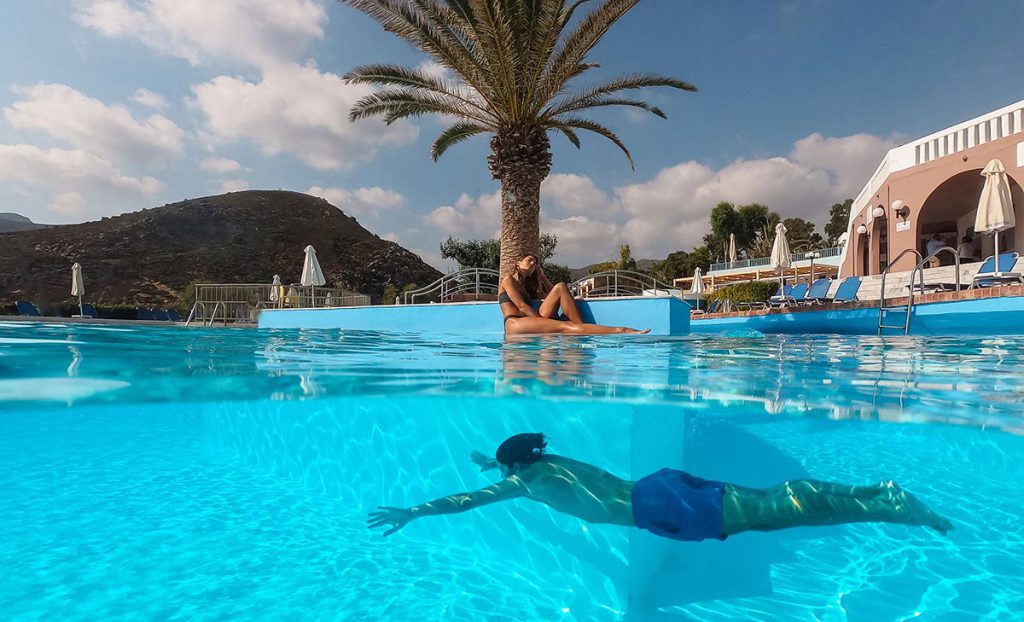 The main pool gives you room to stay and swim at ease when you want to cool off or relax with a delightful book or a refreshing cold drink. There is also a pool for the little ones to play safely. It is a stress-free environment for the entire family.
Finally, our friendly staff will make you feel right at home by attending to all your needs timely and professionally.
Although designed as a family-friendly destination, Fodele Beach & Water Park Holiday Resortwelcomes couples seeking a romantic escape, business travellers, and digital nomads as part of the resort's support for the WFA (working from anywhere) movement.
Digital nomads will appreciate super-fast Wi-Fi, plus all the luxe amenities that make a stay homey and relaxing: comfortable beds with pristine bedding, office-style furniture, air conditioning, TV with international channels, and much more.
So, if you want to spend a vacation at a resort that fulfils your home-away-from-home expectations, booking your next all-inclusive vacation at Fodele Beach Hotel cannot go wrong.