Zebra, Flamingo, and Vintage are the signature collection rooms at Fodele Beach & Water Park Holiday Resort. Designed to impress, they are sophisticated, yet colorful, with playful accents and all the amenities needed for a comfortable stay.
The Signature Collection Rooms are brand new and planned with your comfort in mind. No detail was left to chance: purpose meets design, in tune with our commitment against one-size-fits-all travel experiences. Here is a detailed overview of the rooms that will be your "home-away-from-home" as long as you remain our guest in Fodele.
Zebra Signature Collection Room
The Zebra Signature Collection Room is spacious and bright, with zebra-patterned accents like pillows and throw blankets.  Although the dominant tones are white and black, the décor is not monotonous – interior plants bring verdant accents in all the right places, while the walls are adorned with prints of green natural elements (leaves and branches). Even the luxurious bathroom has such refreshing jade accents that create a fresh ambiance for you to rest after a day of fun at the water park or the beach. Zebra Signature Collection Room's private terrace overlooks the colorful Mediterranean gardens of the resort. Featuring a king-size bed with impeccable linen, the room can accommodate up to three guests.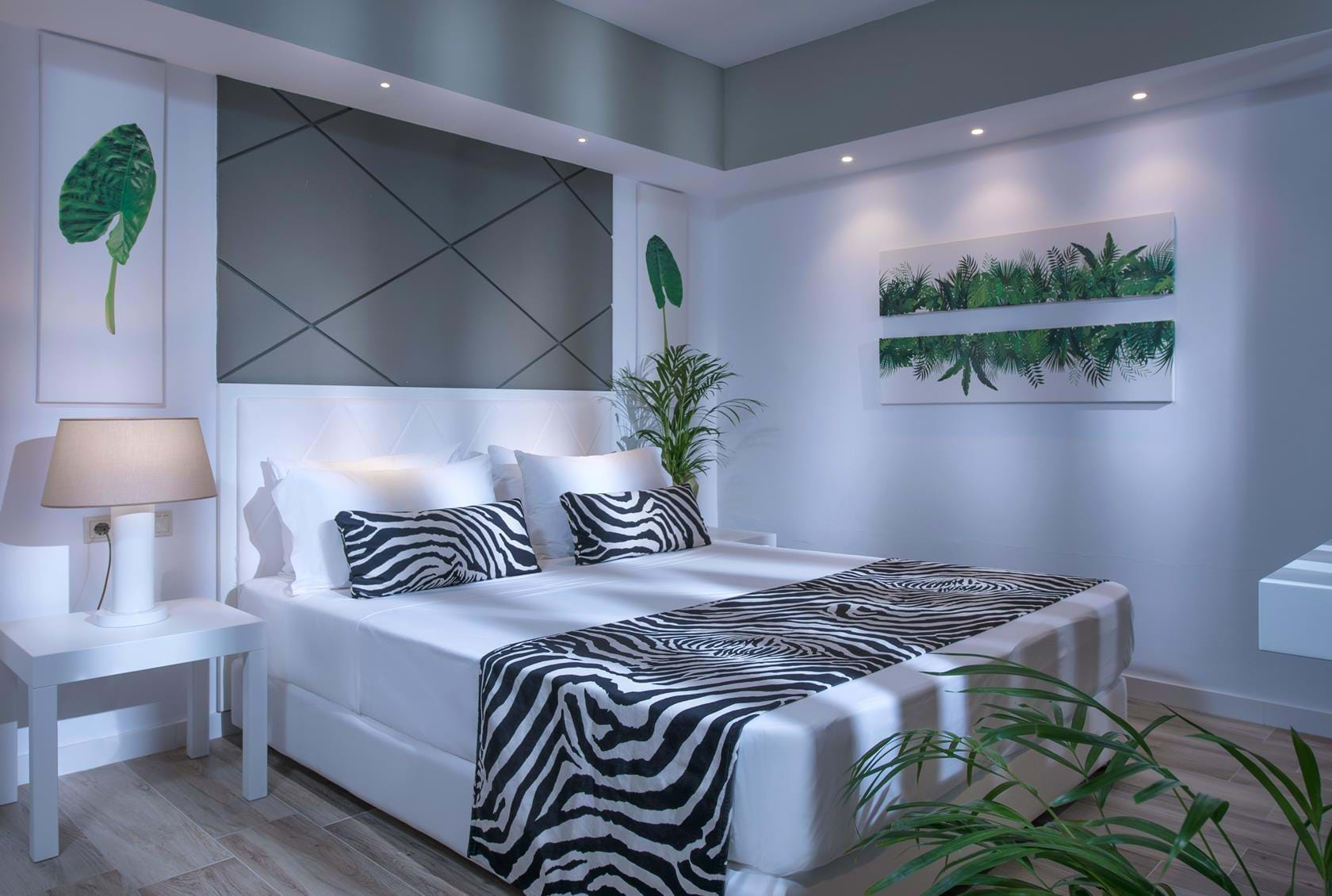 Flamingo Signature Collection Room
Flamingos entered the world of fashion due to American designer Marc Jacobs, in 2014 and remained one of the hottest trends in clothing style, but also in interior décor. Target, the second-largest department store retailer in the United States, now offers more than 100 flamingo products – and they sell fast. The trend was acclaimed by HGTV and other home and design magazines. We love the trend because it's colorful and fun, perfect to give you a good mood when you stay at Fodele Beach & Water Park Holiday Resort. The Flamingo Signature Collection Room is bright and spacious, featuring pastel pink, turquoise, and yellow accents, and tasteful flamingo art on the walls in bright fuchsia and cerise. The private balcony of the room offers soothing garden views. The room can accommodate three guests.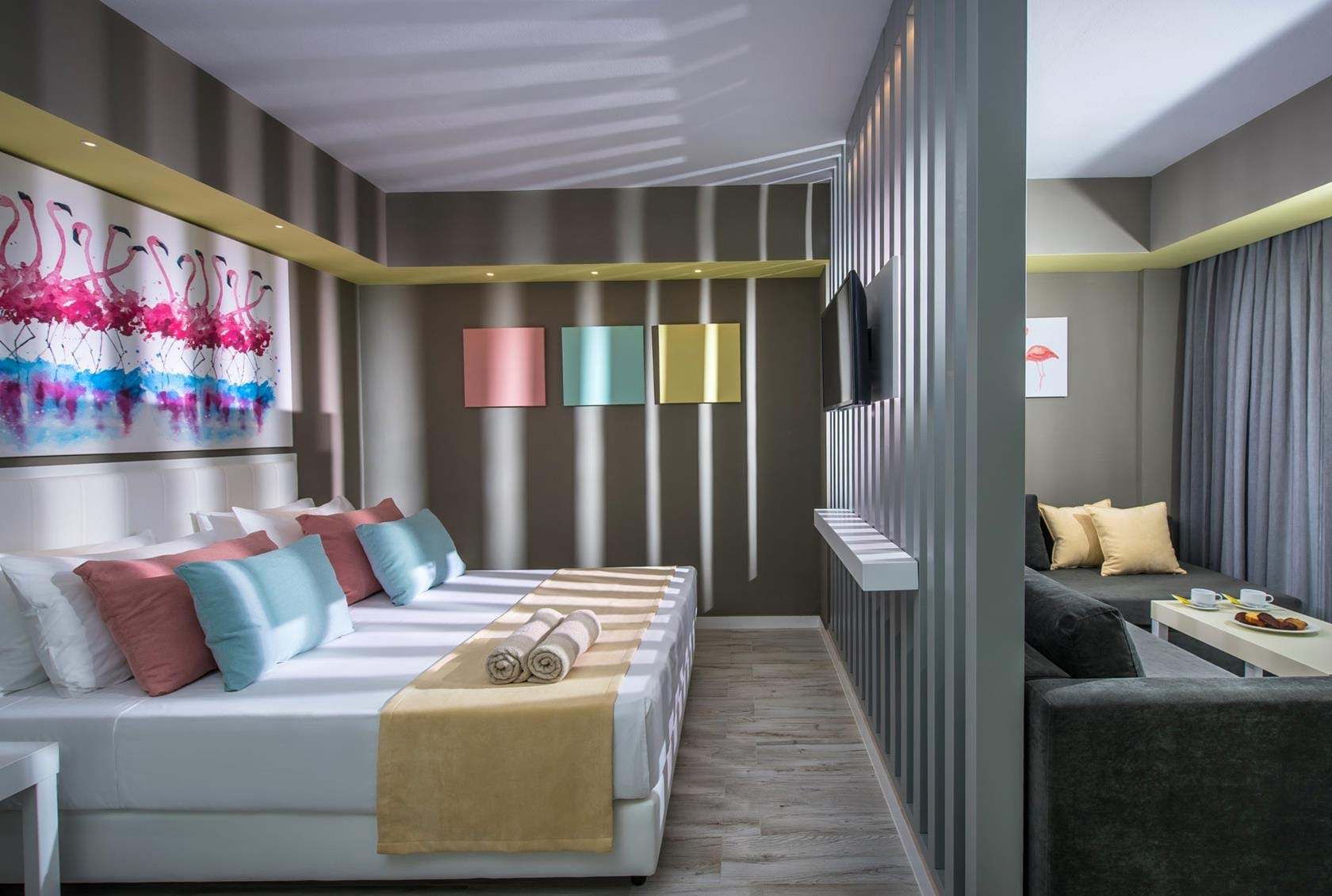 Vintage Signature Collection Room
The Vintage Signature Collection Room is a symphony of blue, marine, and turquoise. It is designed to appeal to your sense of sophistication and opens towards the sea, to reward your stay at Fodele Beach & Water Park Holiday Resort with fantastic views of the waves touching the sky at the horizon. The Vintage Signature Collection Room is ideal for couples, or for families (two adults and one child) but can easily accommodate three adults too.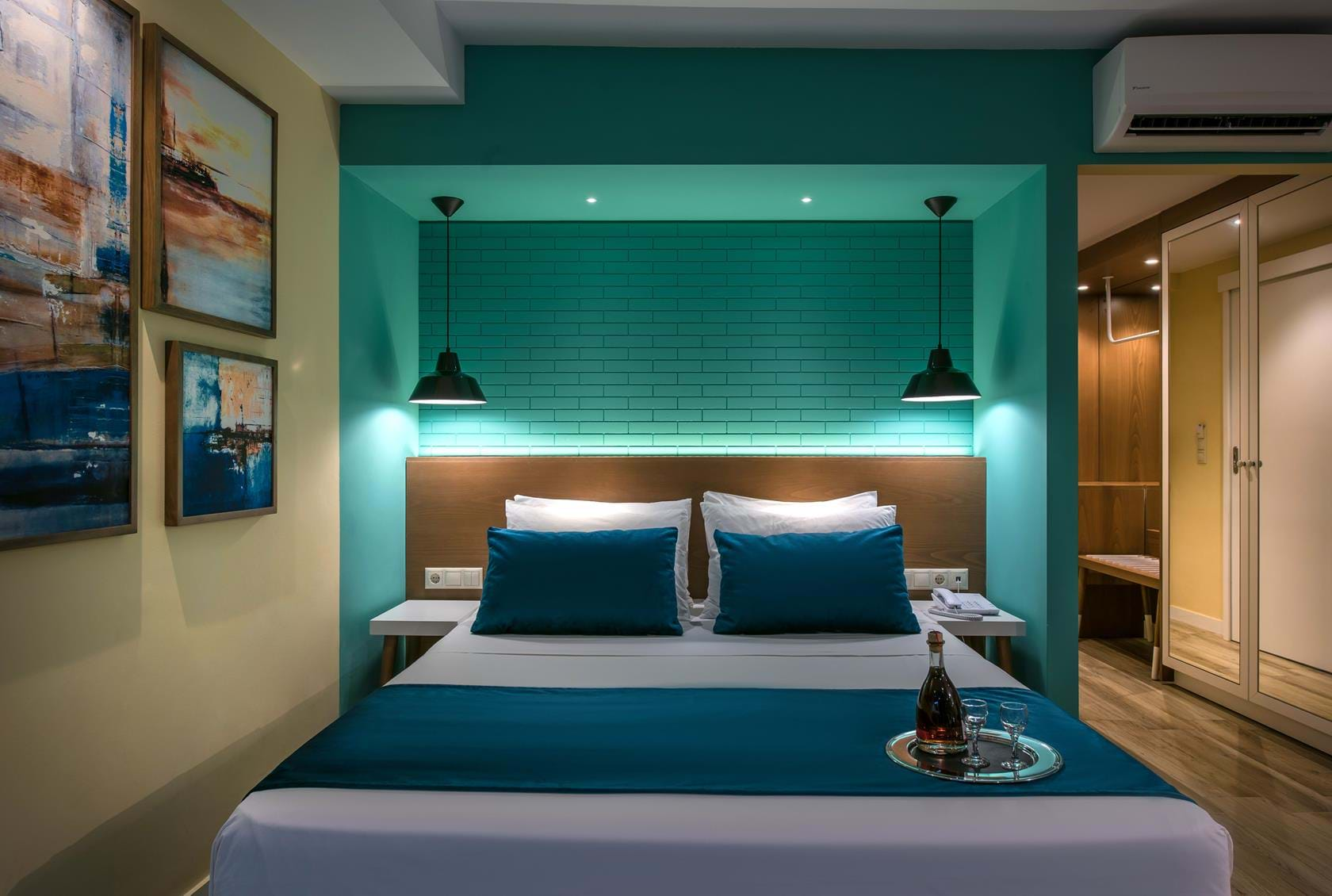 All rooms from the Signature Collection by Fodele Beach & Water Park Holiday Resort feature exceptional amenities to make your stay homey and comfortable: flat-screen satellite TV sets, air conditioning, electronic safe, mini-fridge, kettle to make tea or instant coffee, a mini-bar refilled daily, complimentary toiletries in the bathroom, towels, bathrobes, house slippers, hair dryer, and beach towels. Super-fast WiFi through optical fiber is available at extra charge, but we also have free standard WiFi in some public areas.