As you step into Fodele Beach & Water Park Holiday Resort, the magnificent beauty of the surrounding landscape welcomes you in an exotic ambiance. Our resort's picturesque location offers panoramic views of the sparkling blue waters of the Mediterranean Sea: imagine waking up to the gentle sound of the waves crashing against the shore and being mesmerized by the breathtaking sunsets every evening.
Fodele Beach & Water Park Holiday Resort takes pride in providing guests with luxurious accommodations that cater to their every need. From spacious rooms to elegant suites, each accommodation option is designed with comfort and style in mind. The rooms are tastefully decorated, combining modern aesthetics with a touch of traditional Cretan charm. With amenities such as private balconies and well-appointed bathrooms, every aspect of your stay promises to be nothing short of exceptional.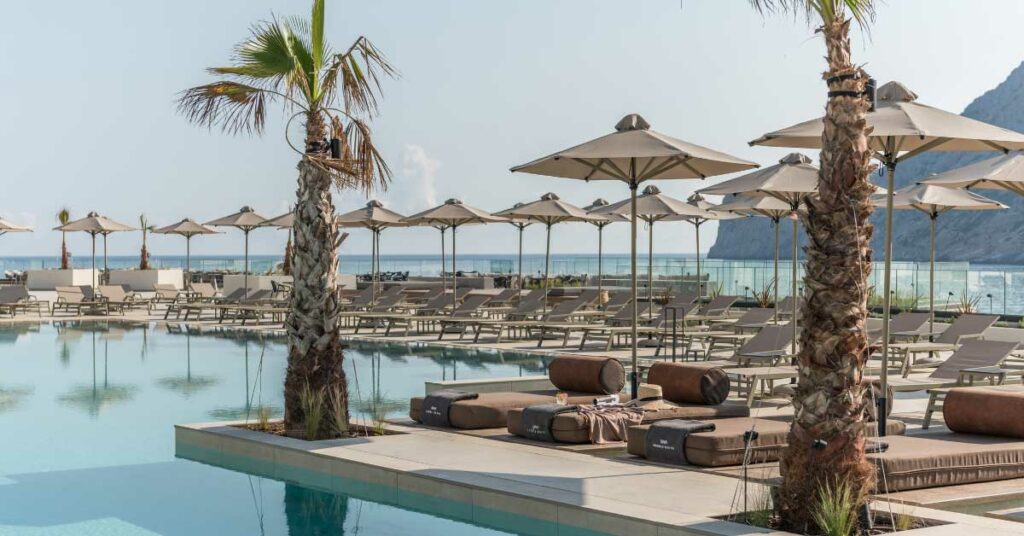 The main swimming pool at Fodele Beach & Water Park Holiday Resort is the centerpiece of the resort's recreational facilities. Its stunning sea views and excellent amenities offer guests a refreshing and enjoyable experience.
The pool features crystal clear, turquoise water that sparkles under the Mediterranean sun, providing a visually breathtaking experience for guests. Its pristine condition and regular maintenance ensure a safe and hygienic environment for everyone to enjoy.
Stretching over a generous expanse, the main swimming pool offers ample space for guests to swim, play, and relax. Its size and layout will accommodate different preferences and activities.
Adjacent to the main swimming pool, guests will find a range of convenient amenities that enhance their poolside experience. Comfortable sun loungers and umbrellas are strategically placed around the pool, providing a relaxing spot to bask in the sun or enjoy a shady retreat. Here are some of the new features of the main pool:
Increased Pool Size: To cater to the growing number of visitors, we expanded the main swimming pool at Fodele Beach & Water Park Holiday Resort. The pool size will now provide ample space for guests to swim, relax, and unwind. This enhancement ensures that everyone can enjoy the pool without feeling overcrowded.
Additional Sun Loungers: As part of the upgrades, we added more sun loungers and umbrellas around the pool area, offering plenty of seating for guests to soak up the sun, read a book, or indulge in well-deserved relaxation while enjoying the breathtaking sea views.
Enhanced Pool Bar: A newly renovated poolside bar offers a wide range of refreshing beverages and snacks to keep guests hydrated and satiated throughout the day. Whether you're craving a tropical cocktail or a light snack, the pool bar will be your go-to indulgence spot.
Stunning Landscaping: We upgraded the landscape surrounding the pool to complement the expansive pool area. Exotic plants and strategically placed palm trees create a serene and tropical ambiance, immersing guests in a true paradise-like setting.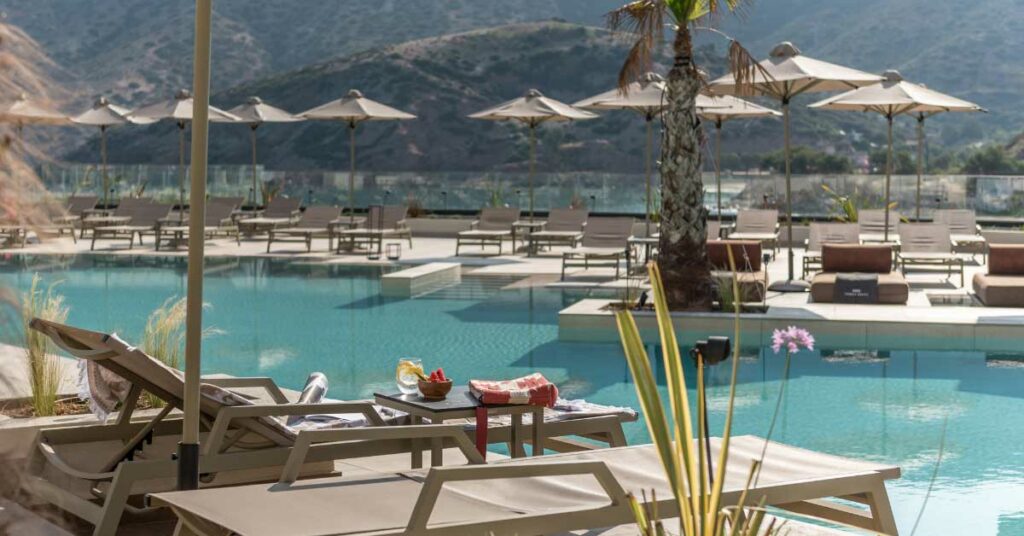 The renovation of the main swimming pool brings many improvements that guarantee an enhanced guest experience. With its sparkling new features, the pool provides a refreshing oasis for guests to relax and unwind. The upgraded design and amenities create a luxurious atmosphere, inviting guests to indulge in the ultimate poolside experience.
Comfortable loungers, umbrellas, and shaded areas allow guests to bask in the sun or find a cozy spot to read a book or enjoy a cocktail. The revitalized pool also includes shallow areas and steps for easy accessibility, catering to guests of all ages and abilities. With these enhancements, the pool becomes a central hub for leisure and enjoyment, adding value to each visitor's stay.
The renovated main swimming pool not only elevates the guest experience and attracts more visitors but also positively impacts the resort's overall reputation. The pool's upgraded facilities and stunning aesthetics symbolize the resort's commitment to excellence and continuous improvement.
Guests who have enjoyed their time at the Fodele Beach & Water Park Holiday Resort are more likely to share their positive experiences with others through word-of-mouth and online reviews. This organic promotion, fueled by the impressive main swimming pool, helps to strengthen the resort's reputation as a premier destination for a memorable and luxurious vacation. In conclusion, the benefits of the renovated main swimming pool at the Fodele Beach & Water Park Holiday Resort are abundant. From an enhanced guest experience to increased visitor attraction and a positive impact on the resort's reputation, the pool stands as a testament to the resort's commitment to providing an exceptional holiday destination.