Whatever the reasons that brought you to Crete this summer, you will discover a carefree haven of natural wonder, matchless hospitality, heritage, and contemporary bliss when you stay at Fodele Beach & Water Park Holiday Resort.
The all-inclusive heaven perched on the western slope of the Kastellos Hill overlooking the Sea of Crete will give you all the reasons to fall in love with your island break.
If you appreciate good food, you will not be disappointed when you vacation here. The resort boasts no less than five restaurants, three bars, and special bespoke dining arrangements to indulge our guests even more.
The main restaurants and bars operate in an all-inclusive regime and are open to all the resort's guests. The a la carte restaurants serve exclusive dishes in a relaxed atmosphere, allowing you to enjoy dining away from the crowds that get in your way at the all-you-can-eat, all-inclusive buffet. Naturally, the a la carte restaurant will require you to pay extra for your meal and drinks, as they are not part of the all-inclusive offer.
Here is a complete overview of your dining options at Fodele Beach & Water Park Holiday Resort:
Main Restaurant "Basilikos:" All-inclusive Buffet Service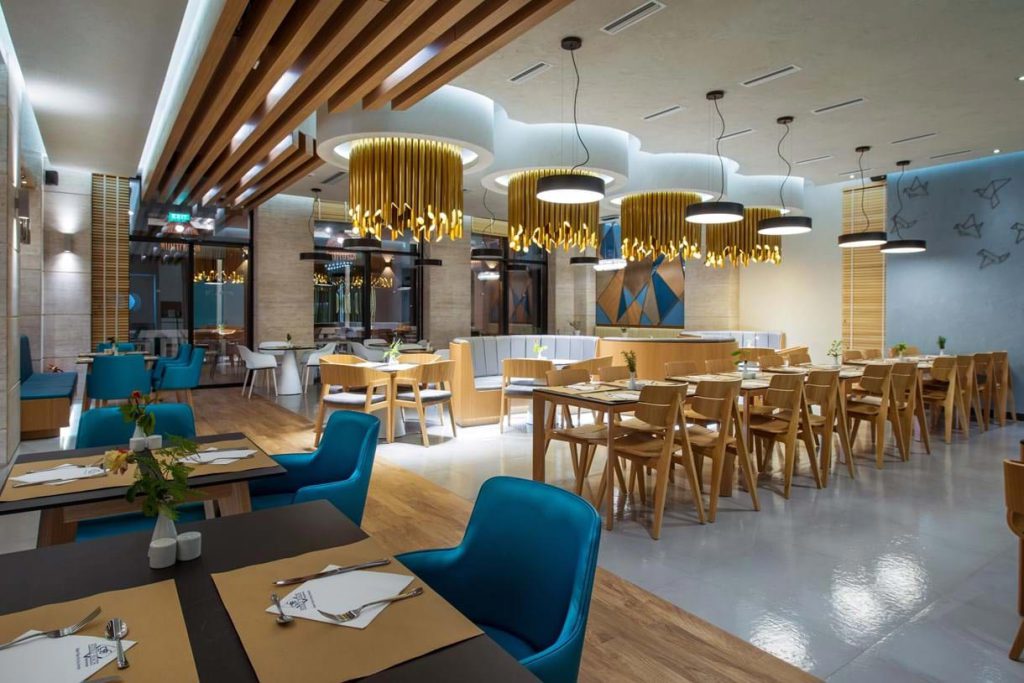 Basilikos is the resort's main restaurant, serving breakfast, lunch, and dinner with an extensive selection of fresh salads, bread, cold cuts, cheeses, warm mains, desserts, and fruit, plus accompanying libations, including water, sodas, wine, and beer – all in an all-inclusive regime. You will appreciate the ethnic evenings when we serve dishes inspired by culinary favourites from Greece, Spain, Mexico, and Asia.
«F» All-day Restaurant: All-inclusive, Buffet-style Self-service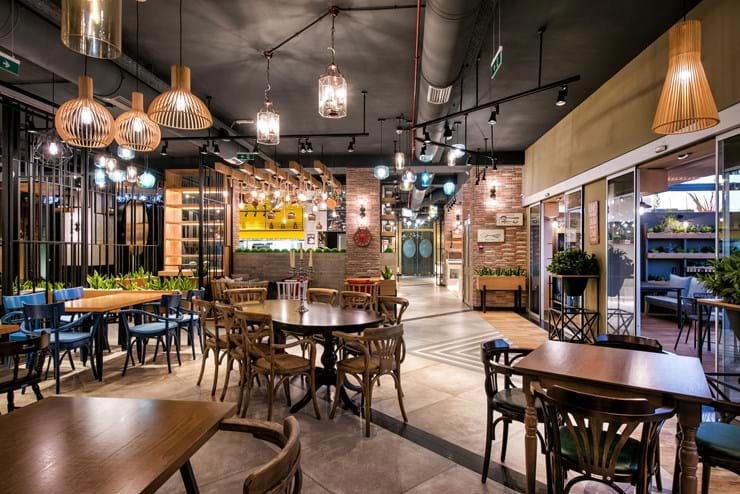 «F» is open from ten o'clock in the morning until six in the evening. A generous buffet featuring salads, mains, and desserts spoils you for choice every day: whenever you feel peckish, you can come in and fix up a plate. Then, grab a table on the terrace and take in the soothing views of the sea. You'll have a relaxed dining experience while you eat to your heart's content.
Ambrosia A la Carte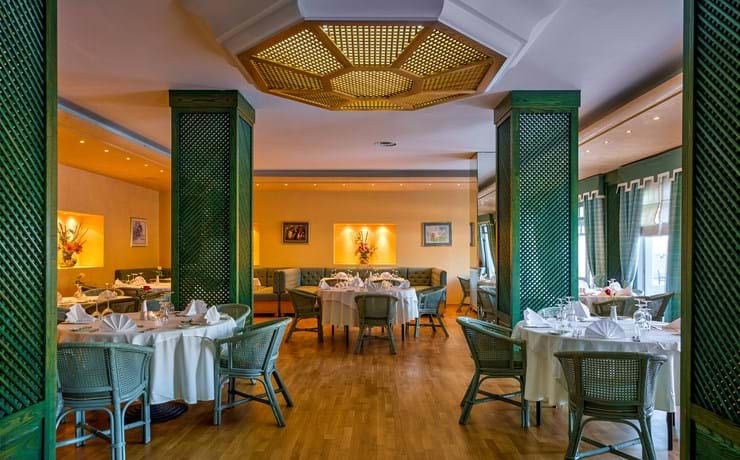 Choose Ambrosia for a fine dining experience in a luxurious ambiance. The menu features a carefully curated selection of international dishes paired with exclusive wines from Crete and abroad. Choose your favourites or ask the waiting staff for recommendations. Please note that Ambrosia is only open for dinner, and reservations are essential during the high tourist season as seating is limited.

Elia A la Carte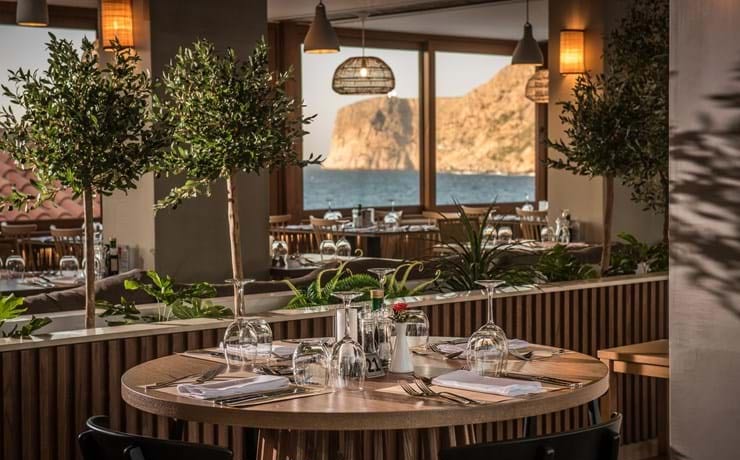 Elia is our traditional Greek a la carte restaurant where you can dine in style and discover the authentic flavours of Greek cuisine. The dishes follow time-tested recipes, passed down through generations, and recreated with a contemporary twist to satisfy the most demanding palates. Please note that Elia is only open for dinner.
Frankie Beach Club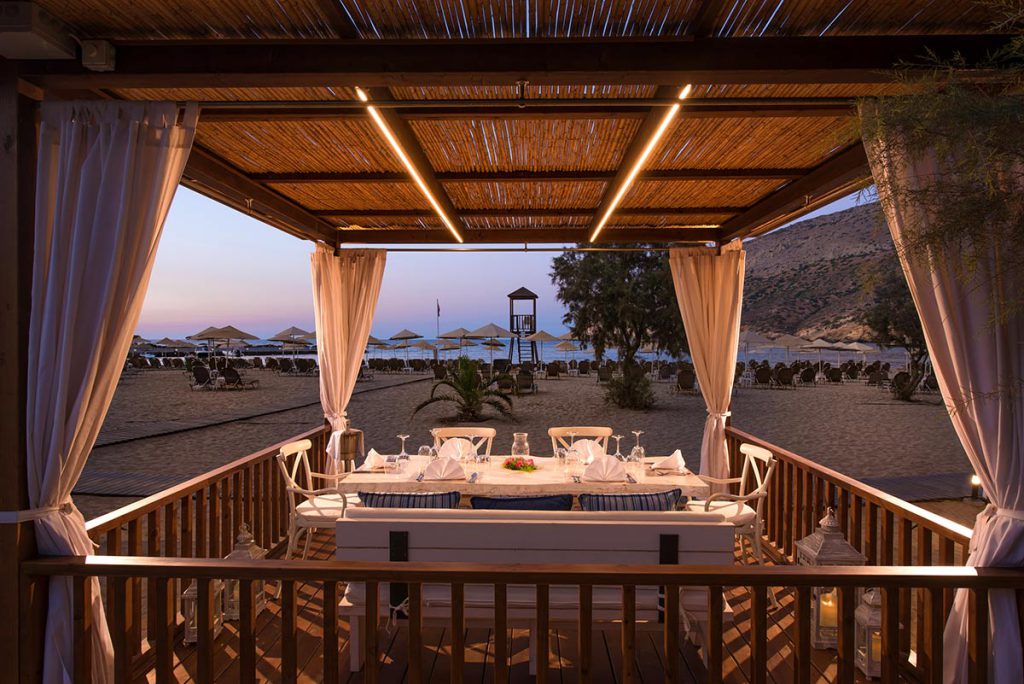 When you spend the day on the beach, and you don't want to leave the sand to dine in one of our main restaurants, Frankie Beach Club offers a satisfying selection of light snacks and drinks: our mocktails are legendary! Just push a button on your beach pavilion, and the waiting staff will arrive promptly to take your order.
And if you want to surprise your partner with a romantic candlelit dinner, book a couple's dining experience on the beach. Your table will face the sea and the stunning seascape of the Bay of Fodele. Choose gourmet dishes from the a la carte menu and pair them with champagne or fine wines.
Finally, the Breeze and Starlight bars serve exceptional cocktails and drinks in an all-inclusive regime. In addition, premium libations – like international spirits, beer, and wine – are available at an extra charge.