When you choose Fodele Beach & Water Park Resort for your Cretan vacation, you get more than breath taking seascapes. We understand your need for comfort and convenience; therefore, we designed every single one of our 412 guestrooms to please you. As a result, you will never have to fear the heat of the Cretan summer: all rooms are air-conditioned. Besides, they all have in-room essential gratuities, like tea and coffee making stations, TVs, bathroom toiletries, beach towels, and more.
Without further ado, here are your premium options when you choose from 412 guestrooms at Fodele Beach & Water Park Resort.
Sunset Room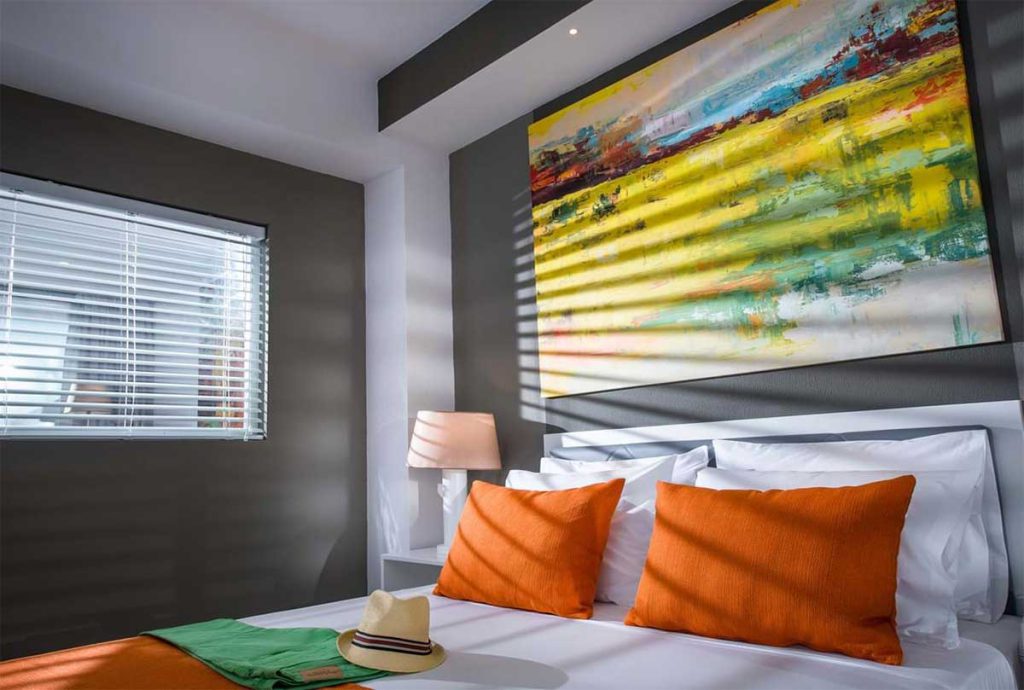 The Sunset Rooms are, in fact, small junior suites, each featuring a large bedroom with a queen-size bed and a spacious living room with an expandable sofa, which can accommodate two children. But when you book the Sunset Room, you will enjoy more than space and comfortable sleeping conditions. The private, furnished veranda offers striking views of the sea and the mountains – ever more fascinating when the sun lingers on the horizon painting the skies and the waves in heart-warming amber tones.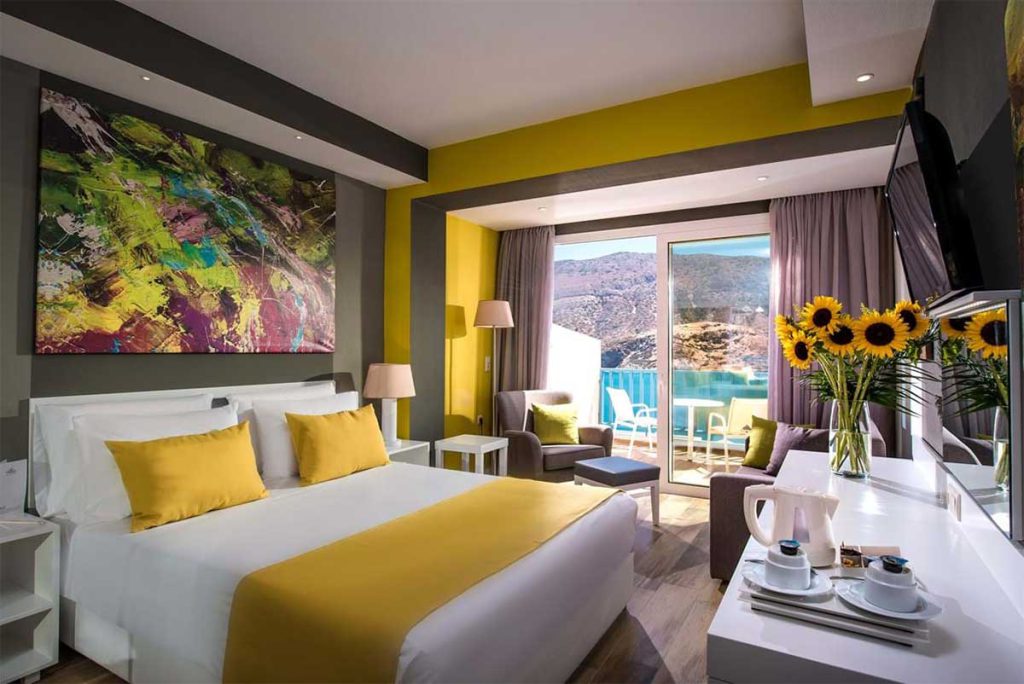 A more compact alternative to the Sunset Room, the Sun Room only offers a spacious bedroom with a queen-size bed and a small extendable sofa in the seating corner, which could easily accommodate a child. These rooms have a bright, joyful decor in complementary colours and offer breath-taking views over the Cretan Sea from a large, furnished, private balcony.
Signature Collection: Zebra, Flamingo, Vintage Rooms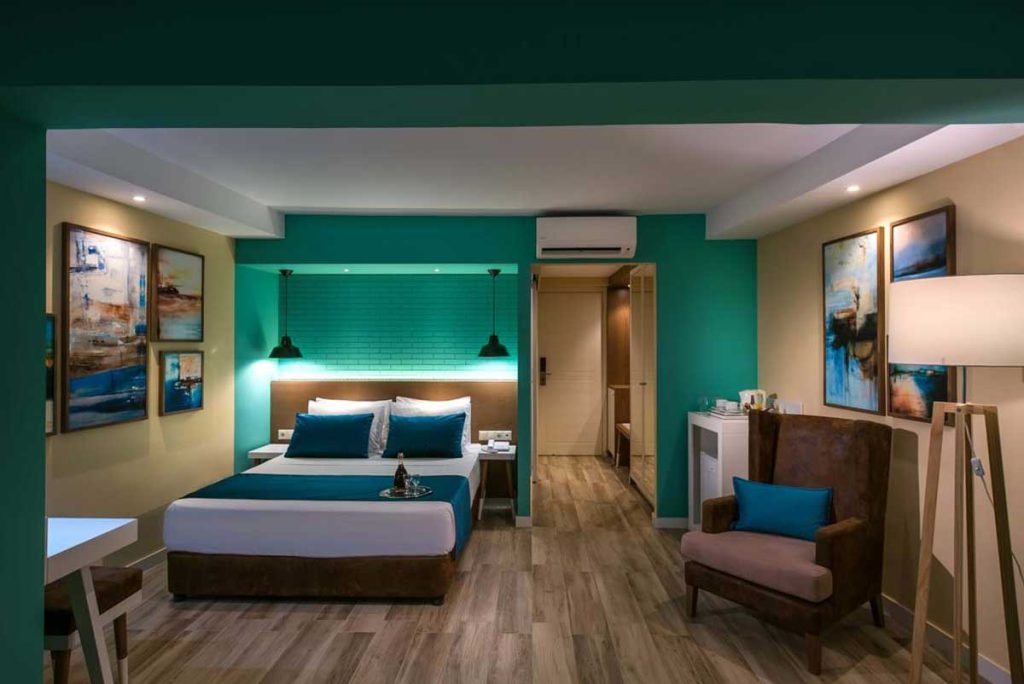 These brand-new rooms from our signature collection are as exotic as their names imply while providing refined luxury and convenience. You can admire our beautifully manicured gardens from the furnished terraces of the Zebra and Flamingo rooms, while the Vintage rooms overlook our eternally blue and mesmerizing Kritiko Pelagos. All rooms have stylish bathrooms and complimentary add-ons to enhance your comfort. You can book any of these Signature Collection rooms for up to three adult guests.
"Elegant" or "Africasa" Double Rooms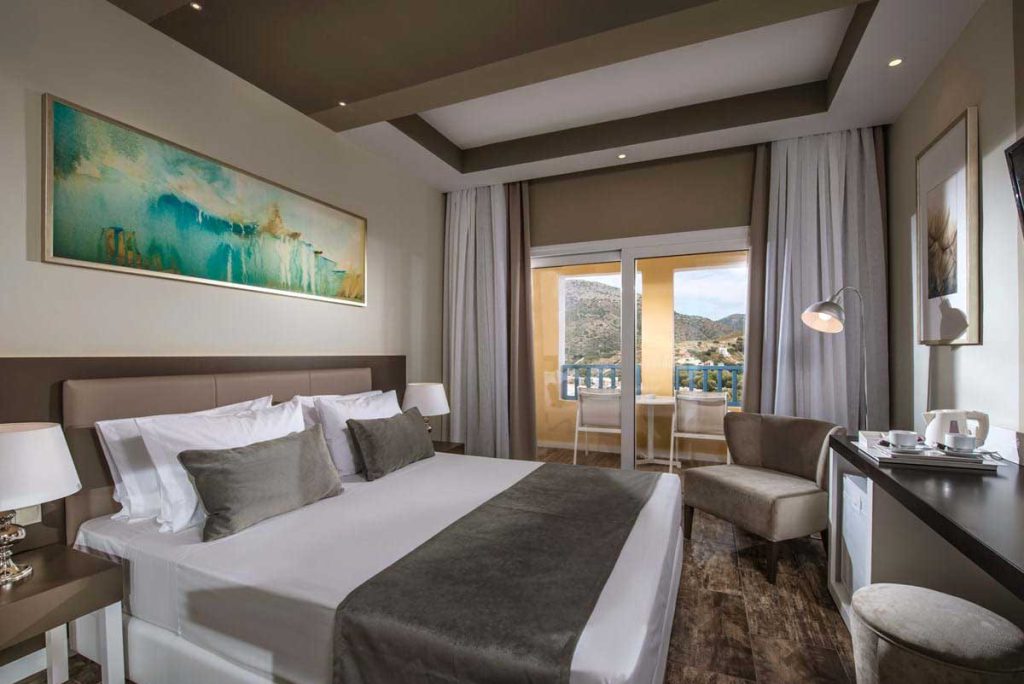 While the most economical options on offer at Fodele Beach Hotel, these rooms are very comfortable. We designed them with particular care for functionality and elegant luxury. They feature queen-size beds with premium bedding and spa-inspired bathrooms for a plus of style. In addition, their terraces are furnished, allowing you to admire the views when you want to relax in the privacy of your room.
Maisonettes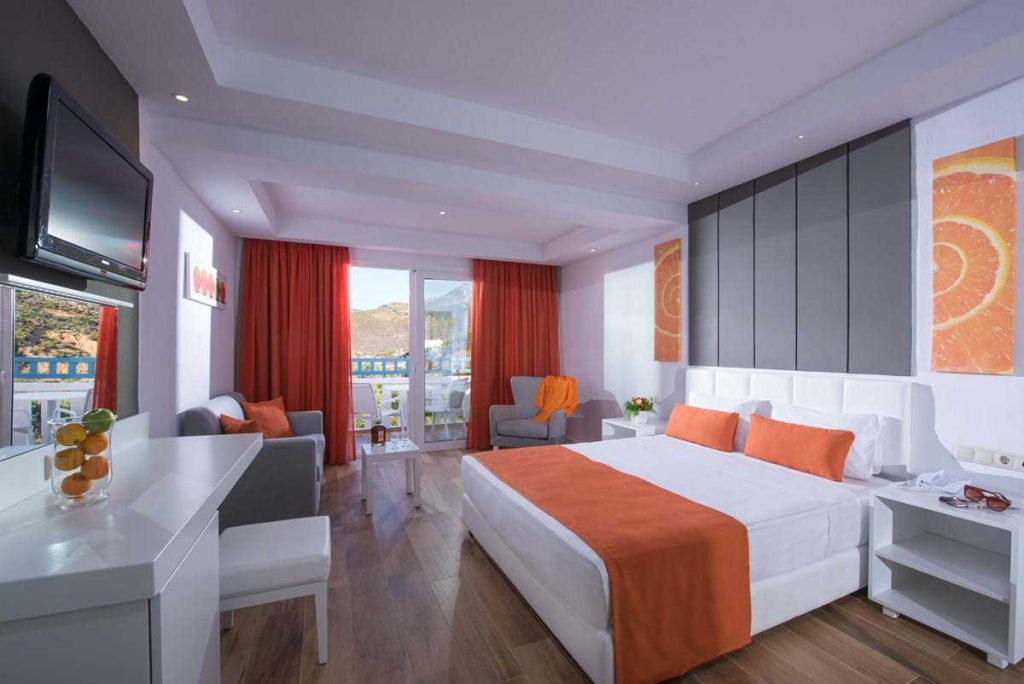 Although we have family suites with a four-guest (two adults, two children) capacity, the fully furnished, two-story maisonettes provide maximum luxury and privacy for their occupants. They have two bathrooms, two comfy sleeping areas – one with twin beds, the other with one queen-size bed, private, fully furnished terraces at each level and a suite of premium amenities that make your vacation a dream come true.
Other room types at Fodele Beach & Water Park Resort include Sea Front Rooms, VIP Suites, and Family Rooms, each offering a superlative level of comfort and all the amenities you need for a stress-free stay.

While usually selected for family or couple summer holidays, you could consider our resort for a long-term stay or a workcation: every room has desks where you can work at ease without being bothered by noise and the hot weather, while the Wi-Fi throughout the hotel is exceptional, offering you a fast and secure connection, ideal for remote assignments over the Internet.