Are you planning a Cretan getaway with your family? Then choose Fodele Beach & Water Park Holiday Resort – an inviting destination boasting:
an award-winning water park with seven rides and six pools;
rooms and suites furnished to give you comfort and a sense of belonging;
all-inclusive restaurants with beautiful interiors and beguiling sea views, serving dishes to satisfy every palate: colorful seasonal salads, fresh fruit, warm vegetarian meals, grilled meats, traditional Cretan specials, and desserts;
a well-groomed, Blue Flag-certified beach with sun loungers and umbrellas, available at no cost for all our guests;
a range of leisure, sports, and entertainment activities for all ages;
a spa where trained staff will pamper you until you forget all your worries;
super-fast Wi-Fi, plus all the luxe amenities that make a stay homey and relaxing, and much more.
Fodele Beach & Water Park Holiday Resort is more than a destination for families. Couples, solo travelers, business travelers, and digital nomads will find everything they need for a beachfront haven that lifts the mood, lowers stress, and improves every person's overall well-being.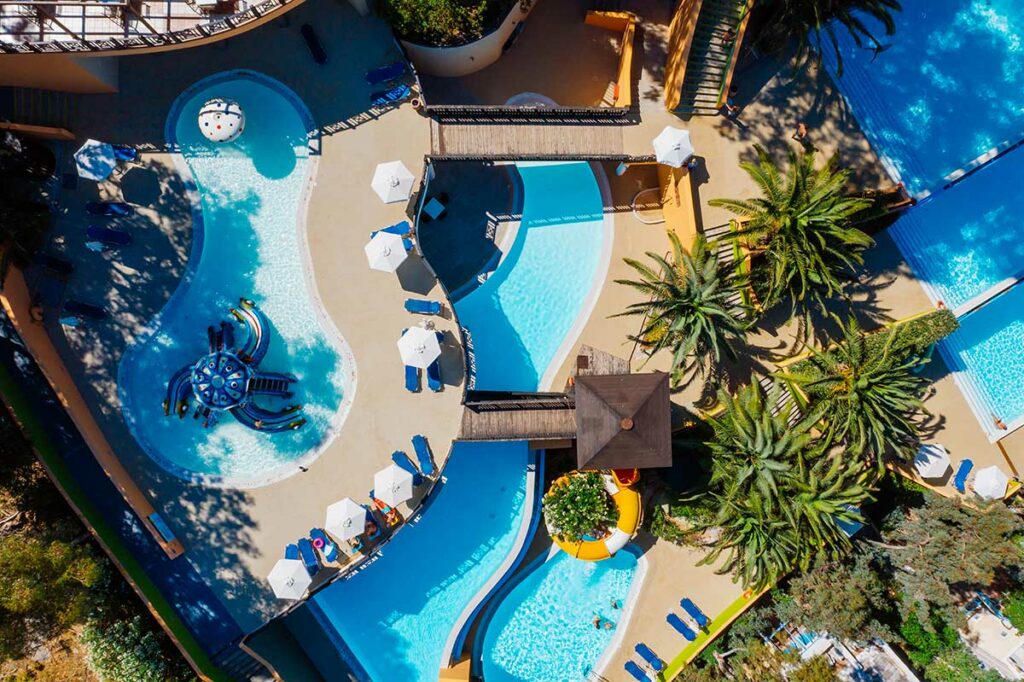 Why Book Directly Through Our Website?
Booking directly through our website offers unique benefits unavailable through OTAs or other third-party booking engines.
Our Best Rate Guarantee is simply the best. You will not find a lower rate for the same room type and same reservation dates on a third-party website, app, or travel agent. The Best Rate Guarantee represents the hotel's lowest rate for all room and suite types.
When you book directly through our website, you can choose the rates that best suit your needs:

Either the non-refundable rate, which is affordable but does not give you the option to cancel your booking and recover your fee;

Or the flexible rate allows booking modifications and cancellations without charges if you change your mind two weeks before your scheduled arrival date.

Another incentive to book directly through our website is a free a la carte dinner in one of our a la carte restaurants:

Ambrosia a la Carte is a contemporary-chic restaurant serving internationally inspired dishes with a focus on Italian cuisine. Take a look at the menu.

Elia is a haven for lovers of authentic Greek cuisine. The menu features specialties like Cretan pasta "Skioufihta" with minced mushrooms, Cretan potato salad, traditional dolmades (stuffed grape vine leaves) and stuffed zucchini blossoms, etc.

Access to exclusive offers and packages for special occasions: wedding and honeymoon packages, couples' romantic candlelit dinners by the sea, conference packages, etc.
You will always see the best rate available displayed in a widget powered by RateStrip on our website when you book directly. The widget will also enable you to compare our best rates to our rates from OTAs and third-party booking engines like Booking.com, Expedia, and Hotels.com. In addition, you can use the widget to turn on price alerts to track price changes for your desired booking period. These are just some advantages of direct booking on the official Fodele Beach & Water Park Holiday Resort booking engine. You will find other surprises – like welcome treats in your room – when you book directly. We are always happy to reward your trust with exceptional services, amenities, activities, and philoxenia—the backbone of Cretan hospitality.