Once you spend a bit of time in Crete and with the company of Cretans, you will realize one thing for sure: these people know how to eat!
Food is an important part of Cretan culture and the center of all social events. Cretans are proud for the quality of their products, especially if they are produced by their family, which is quite common. Almost every Cretan family produces their own olive oil and wine, and women pass traditional recipes to the next generation: heavenly pies with a variety of fillings, savory meat dishes, colorful appetizers with legumes and fresh vegetables and, of course, full-flavored Cretan cheese. Good food is highly appreciated in Cretan culture and a local secret of happiness and healthy living. Are you ready to enjoy food like a Cretan?
Think local!
Whether you are cooking your own food or eating at a restaurant, make sure you consume local quality products. Go shopping in open-air markets where producers sell their own produce, or ask where a product is coming from. Go for PDO and PGI labels, and search for shops specializing in Cretan products. Eat in restaurants that use local products and serve traditional dishes, and always ask details about your wine.
Always (always!) eat something with your drink
You are in urgent need for a coffee? Don't forget your Cretan style olive-oil based cookie with sesame, sold in almost every bakery and often offered in traditional coffee shops. Do you crave some good Cretan wine or raki? Most likely they will bring you a few mini-appetizers with your drink, even if you didn't order them. Drinking alcohol without food is a crime in Cretan food culture, as it makes the whole process more pleasurable and ritualistic. Plus, it will save you from a bad hangover!
Simplicity is the key!
Do not add spices and sauce assortments to your dishes. Cretans don't use heavy spices and most dishes do not contain more than 1-2 local spices, usually oregano or thyme. The reason is simple: the flavor of local products is so good, it is considered a sin to "spoil" it or cover it. Taste a "real" tomato, the rich flavor of potatoes grown in Lassithi Plateau, and the naturally thyme-flavored Cretan lamb, as the animals are free range and feed from mountain herbs, and let exquisite natural flavors take over your senses!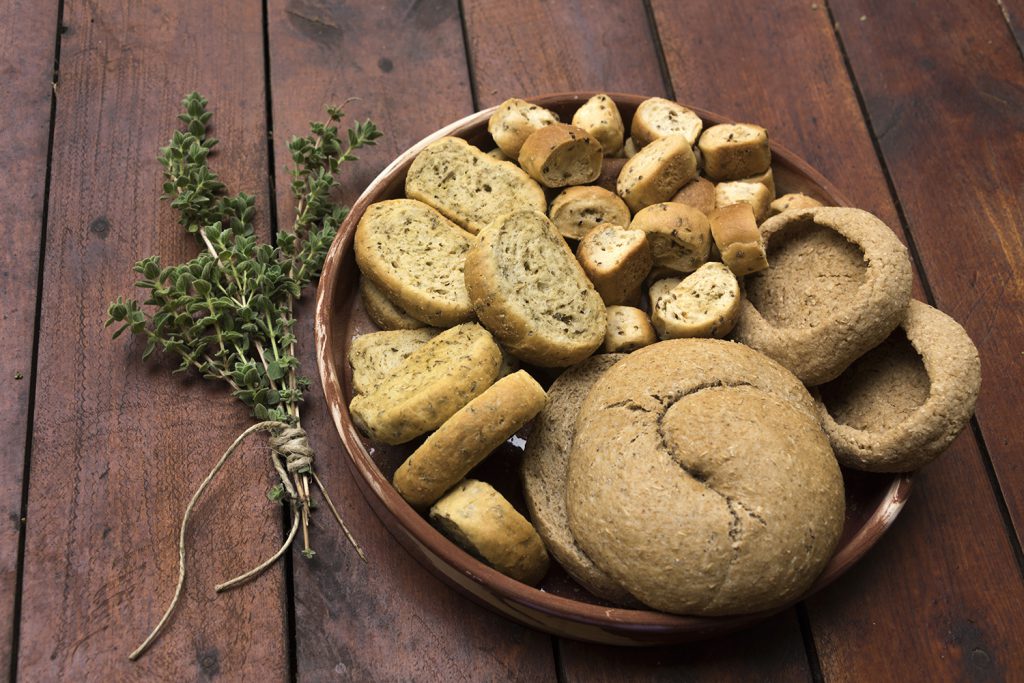 Include the basic Cretan goodies in every meal
Olives, cheese and freshly baked bread or Cretan rusks are a "must" in almost every meal, and so is a glass of quality Cretan wine. If you are eating at a local tavern, make sure that you order a couple of typical Cretan appetizers, such as athogalo (white cheese spread), dakos (Cretan rusk topped with freshly trimmed tomato and feta cheese) or apaki (smoked pork).
Take your time and share!
When you are in Crete, you will probably notice that Cretans rarely order individual meals and they often spend hours on the dinner table, discussing and laughing, while new dishes keep coming. Cretans love to spend time eating with company and order a variety of dishes, a large salad, appetizers and a bottle of wine to share them. Eating together in Cretan culture means sharing the food and the experience, agreeing upon which dishes to order, if a second round is needed and passing the bread to each other. Food democracy at its best!