Known for the Cretan diet, which inspired the celebrated Mediterranean diet, Crete has a rich culinary tradition based on local seasonal ingredients and simple cooking techniques. However, they do tend to become more complex when baking phyllo pastry desserts like bougatsa, baklava, or galaktoboureko.
The following three traditional Cretan dessert recipes are easier to prepare than the phyllo pastry ones and will remind you of the tastes of the island even when you are far away.
Kalitsounia – Sweet Cheese Pies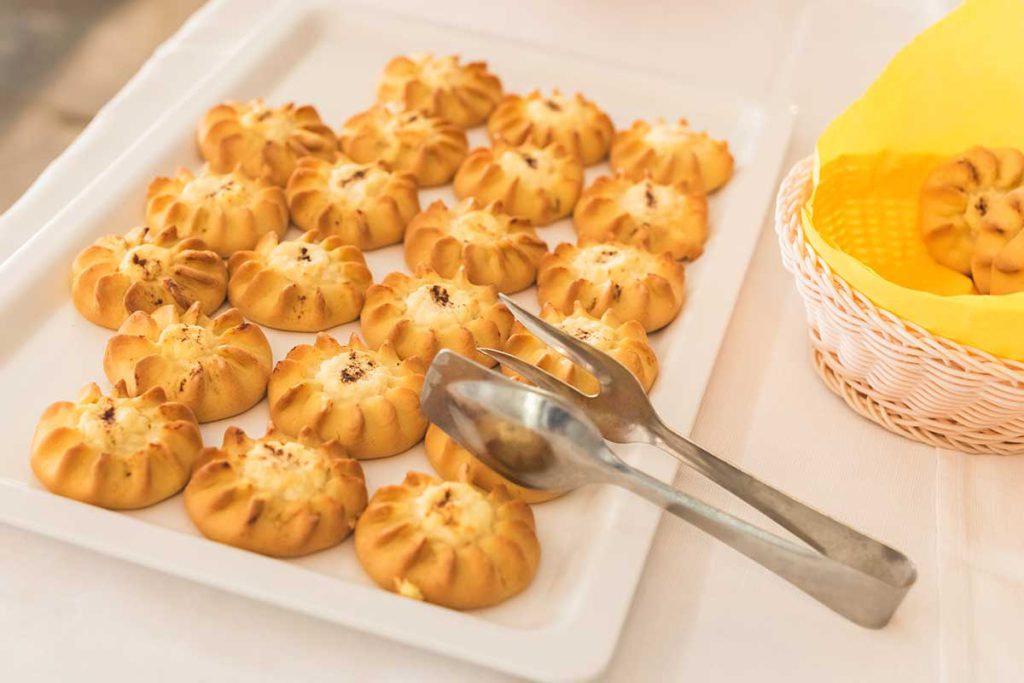 To prepare kalitsounia (Kαλιτσούνια), Cretans use sweet mizithra cheese, which originated in Crete, then spread throughout Greece. However, sweet mizithra cheese may not be available where you live. In that case, you could use mascarpone, crème fraîche, or ricotta instead.
Kalitsounia may come in different shapes (crescent, star, round, rectangular) and can be sweet or savoury if you add some feta cheese to the filling and spinach with Cretan herbs. You can fry the pies or bake them in the oven with delicious results. The following recipe is for baked, sweet kalitsounia: unlike fried kalitsounia, which are best enjoyed warm, these last longer and are delicious cold too. You can use ready-made puff pastry dough if you do not have time to make this dough.
Ingredients:
For the dough:
120 ml. sunflower oil
500 g. all-purpose flour
1 tbsp. raki (or orange juice if not available)
150 g. full-fat Greek yogurt
200 g. granulated sugar
1 egg
1 tbsp. baking powder
pinch of salt
For the filling:
500 g. sweet mizithra cheese
120 g. granulated sugar
1 egg
1 tsp. cinnamon
Method:
First, prepare the dough: it will need to rest in the refrigerator for 20-30 minutes before ready to use.
Whisk the oil, raki, yogurt, and egg in a bowl – these are the wet ingredients.
Mix the salt with the flour and baking powder in another bowl – the dry ingredients.
Transfer the dry ingredients to the wet ingredients and mix with a wooden spoon until the dough starts forming, then knead with your hands to bring the dough together.
Wrap the dough in plastic wrap and refrigerate for up to 30 minutes to rest.
Prepare the filling by mixing well all the ingredients in a bowl with a fork.
Preheat the oven to 160° C.
Dust a working surface with flour, roll the dough into a ball and press with your hands until it is about 2.5 cm thick. Use your rolling pin to flatten the dough to a 0.5 cm sheet.
Cut the dough with a circular cookie cutter or a water glass and fill it with sweet mizithra cheese filling: fold the edges of the dough towards the centre without covering the filling completely.
Press the edges of the dough with a fork before placing the pies on a baking tray lined with parchment paper.
Brush the pies with egg, then bake in the preheated oven for 15 to 20 minutes, until golden brown.
You can enjoy them as they come out of the oven or drizzled with Cretan honey.
Sfakian Pies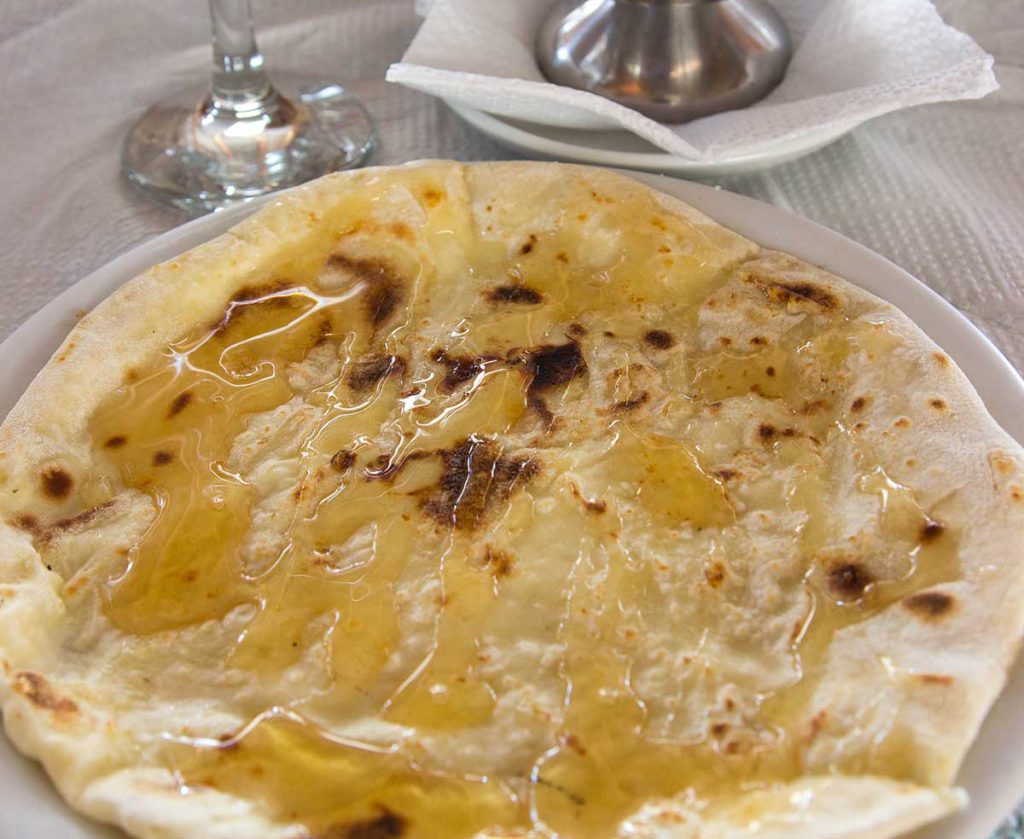 As their name implies, these pies are traditional in Sfakiá, a mountainous area in the Chania regional union of Crete. They are easy to prepare, and you can enjoy them as an appetizer or dessert when you drizzle them with honey.
Ingredients:
For the dough:
500 g all-purpose flour
200 ml lukewarm water
1 tsp. dry yeast
1 tbsp. olive oil
1 tbsp. raki (or lemon juice when not available)
pinch of salt
For the filling:
To serve:
Cretan honey
fresh mint leaves (optional)
Method:
In the bowl of the stand mixer, add all the ingredients for the dough and mix with the dough hook attachment until you get a smooth, elastic dough.
Transfer the dough to a bowl greased with butter or olive oil and cover it with a tea towel. Allow it to rest at room temperature for one or two hours until it rises.
Divide the dough into eight to ten equal parts and form into balls. Flatten each ball with your hands, then with a rolling pin until you get disks of about 10 cm in diameter each.
Divide the mizithra cheese equally between the sheets, placing the portions at the centre of each disk. Fold the margins of the dough over the cheese, then roll again with the rolling pin until you get 20 cm diameter disks.
In a frying pan, heat 2-3 tablespoons of olive oil and fry each pie for 2-3 minutes on each side, over medium heat, until golden and evenly cooked.
Serve hot, drizzled with honey.
Kourabiedes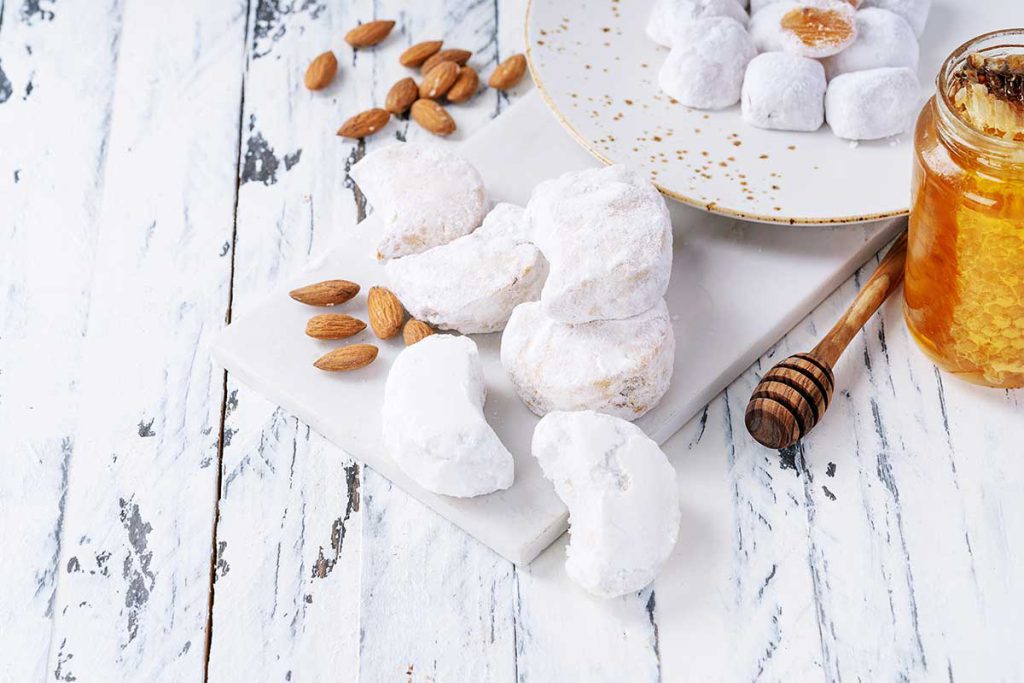 Although traditional Christmas cookies, you can enjoy Kourabiedes whenever you like at home: they work great with coffee or tea. They use a lot of icing sugar, so they are sweet.
Ingredients:
400 g all-purpose flour
250 g unsalted cow milk butter
150 g roasted almonds, crushed or flakes
50 g raw almond powder
75 g icing sugar (powdered sugar) + more for powdering the cookies when you take them out of the oven
1 tbsp baking powder
1/2 tsp. vanilla extract
pinch of salt
Method:
Preheat the oven to 170 C.
Mix butter and icing sugar in the bowl of a food processor until you get a homogenous mixture (10-15 seconds should suffice).
Add the raw powdered almonds, vanilla, and a pinch of salt and continue mixing for about 20 more seconds to incorporate everything thoroughly.
Finish with the baking powder and flour and mix for 15 more seconds.
Transfer the dough to another bowl and add the roasted, crushed almonds. Incorporate mixing lightly with a wooden spoon.
Layer a baking tray with parchment paper and begin adding the kourabiedes: take 1 tbsp of dough, roll it into a ball, set it on the tray, and press lightly into the middle to form a small indentation. Repeat until you finish the dough or fill the tray.
Place the tray in the fridge for five minutes to rest before baking them for 15-20 minutes until golden.
Remove from the oven and allow to cool off before you transfer them to a serving tray and powder them with icing sugar. Note: These traditional recipes may have variations depending on each of Crete's regional units, villages, or family recipes.