When you travel to Crete with children, you will appreciate the wealth of things to see and do. From the beach all the way up to the mountains, the island offers all kinds of attractions for the little ones. Here are five of the top activities available for kids on Crete.
1. Beach Fun for All Ages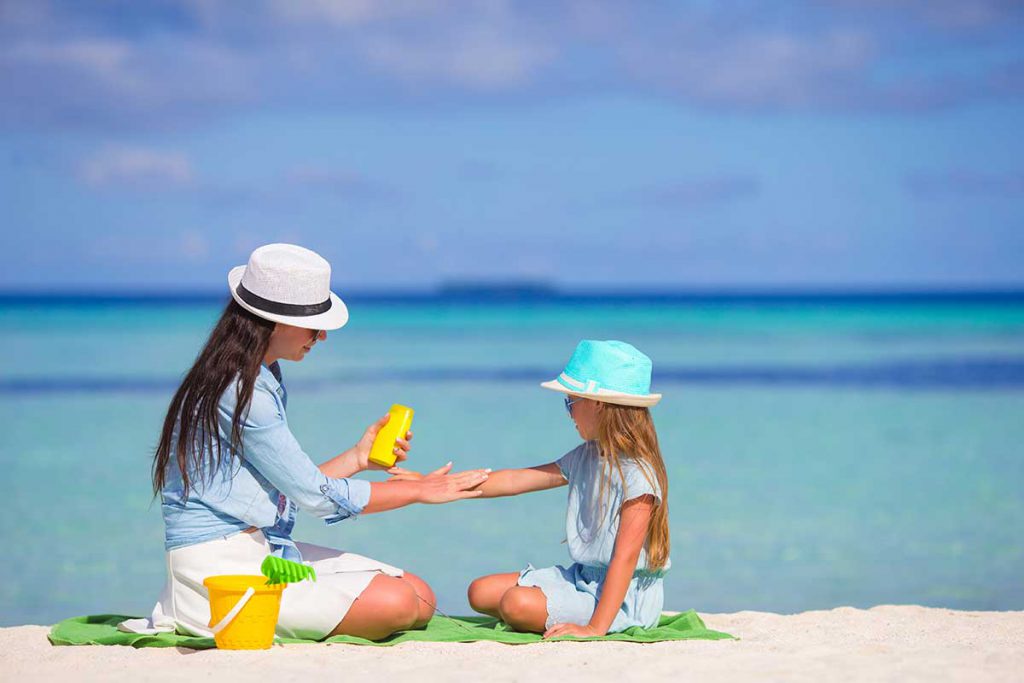 Children love playing on the beach, and Crete has some of the best stretches of sand in all of Greece. Most of the island's beaches are Blue Flag, with crystal-clear water and high levels of cleanliness. Depending on where on Crete you vacation with your children, here are some of the best beaches for the little ones.
In Chania, the best beach to visit with your family is Elafonissi. It is stunningly beautiful, with pink sand and clean, shallow water, safe to swim and play in. There's a protected area at the beach where loggerhead sea turtles (Caretta caretta) come to lay their eggs. On the dunes, you can see sea daffodils in the summer and Androcymbium rechingeri – a rare Cretan endemic flower that blossoms in the winter. Both plants are protected under Greek law, and removing them will attract severe fines. The loggerhead sea turtles are shy animals; you are likely not to see them. But if you do spot one, keep your distance: they are a protected species.
Elafonissi gets crowded in the tourist season. If you want a quieter beach, Tersanas near Chorafakia – some 13 kilometers drive northeast of Chania – is excellent for a fun day in the sun. It is small, organized, and tends to get busy on weekends. However, during the week, you will find room to relax and watch your children play in a safe, charming environment.
A drive of 35 kilometers south of Rethymnon will take you to Damnoni, a long stretch of coarse, white sand kissed by cyan waters. Well organized, the beach has sunbeds with umbrellas for rent, watersports and scuba diving centers, and good dining options. Among the activities available at the beach, you can count horseback riding, stand up paddleboarding (SUP), snorkeling, windsurfing, and more. The beaches Ammoudi, Klisidi, and Ammoudaki, are within walking distance, offering even more opportunities for sun chasers traveling with kids.
In the Heraklion regional unit, you could choose Stalis (also known as Stalida), about 30 kilometers east of the island's capital. There are huge waves on windy days, which could be challenging even for experienced open-water swimmers, so take care of the little ones.
Finally, in the Lassithi regional unit of Crete, you will find the palm beach of Vai, a stunning seascape that fascinates visitors of all ages. Cretan date palms make the most extensive natural palm forest in Europe, and the beach is scenic, well-organized, and safe to play. The little ones will find snorkeling here is a delightful way to pass the time.
2. Hiking in the Countryside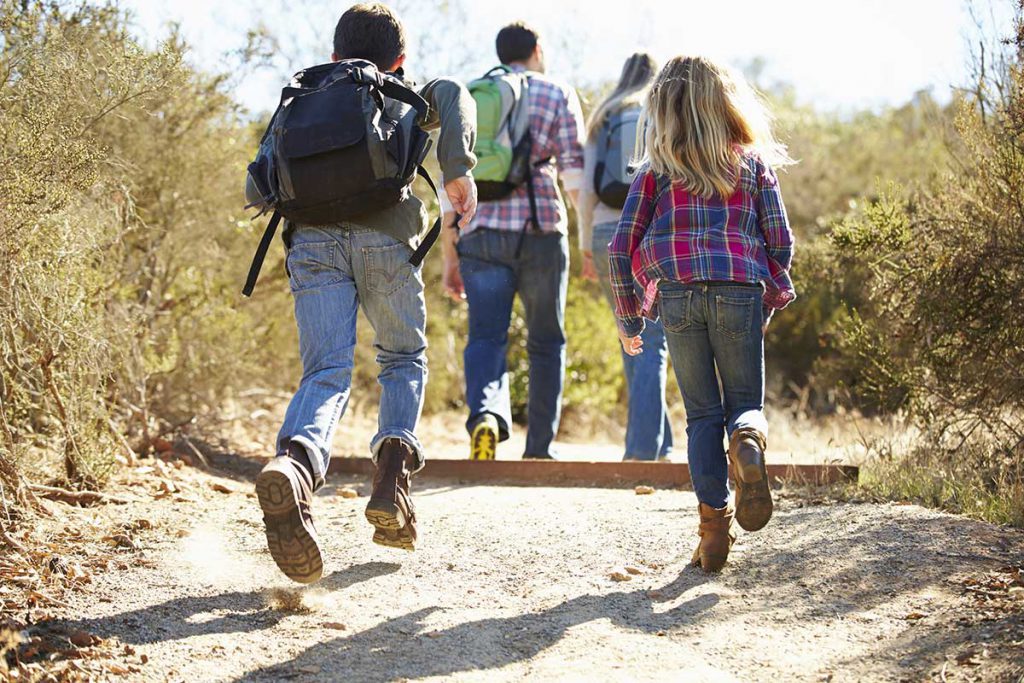 Crete is 80% mountainous; therefore, it boasts a vast network of hiking routes. If you travel with active children, you will appreciate the nature trails that cross the island, taking you through verdant ravines, rugged mountaintops, along delicate springs, leading to forests, or mystical caves.
Among these hikes, a short, easy one children will love leads to the Ideon Cave (Ideon Antron, sometimes spelled Idaean Cave) on the eastern slopes of Mount Ida (Psiloritis). As legend tells us, this is the cave where Zeus, the Olympian, god of all gods, grew up under the loving care of Amalthea. The cave is 1538 meters above sea level, in an easily accessible area of the Nida fault. Your little explorers will gasp in awe at the stalactites guarding the entrance of the cave. The sanctuary is quite a sight too.
Another easy hike related to Zeus and his birth leads to the Diktean Cave from the Lassithi Plateau. Kids can ride a donkey to access it and enjoy the presence of the animals. Stop by a local taverna to sip freshly-squeezed orange juice free of preservatives. Grab a bite to eat: opt for Cretan mountain fare to fully appreciate the local cuisine without touristic influences.
3. Museums Catering to Children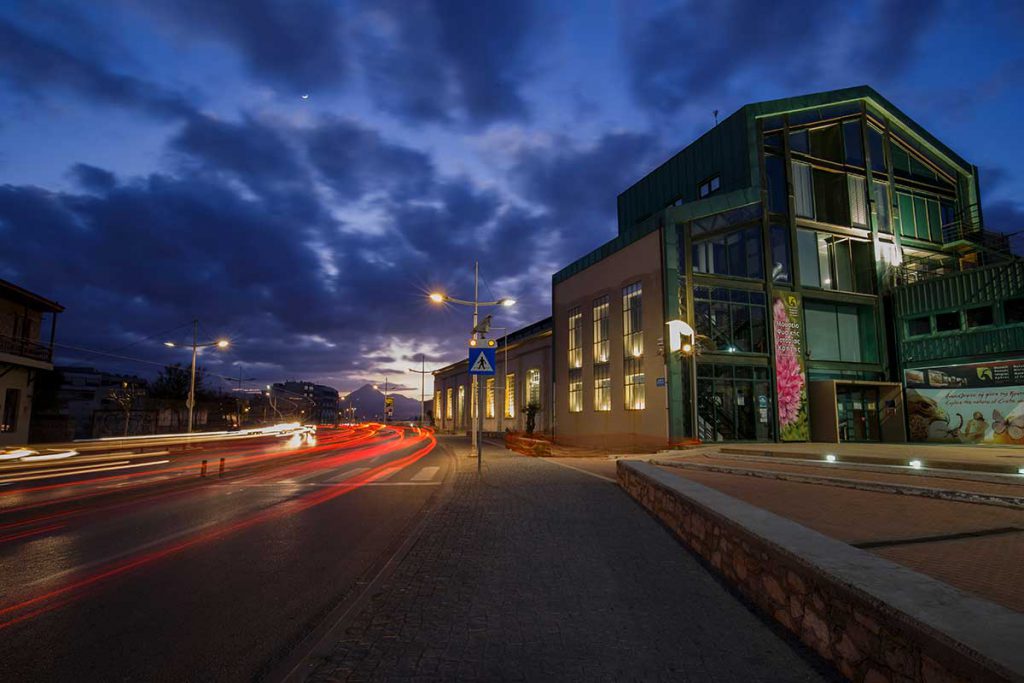 Crete has several international-level museums that cater to children. Here are the ones you should not miss when you travel with kids.
The Natural History Museum of Crete (Leof. Sofokli Venizelou, Heraklion), operated by the University of Crete since 1980, offers an impressive account of wildlife in the eastern Mediterranean region, particularly in Greece and Crete. It has life-size dioramas, terrariums with living creatures, a seismic simulator, and a special wing documenting the Natura 2000 designated areas in the country. Children and teens aged 15 and younger will appreciate the Stavros Niarchos Discovery Center, which boasts all kinds of hands-on, age-appropriate educational activities.
CretAquarium Thalassókosmos in Gournes, 15 kilometers east of Heraklion city, is another children's attraction hard to resist. It offers a glimpse into the Mediterranean Sea's flora and fauna, all under the Hellenic Centre for Marine Research's scrutiny. Hands-on activities for children are available by appointment only.
Don't leave Gournes before you visit Dinosauria Park, not far from the CretAquarium. This museum occupies a hangar of the former American Base. It offers an immersive experience with real-size dinosaur replicas (Carnotaurus, Tyrannosaurus, Baryonyx, Ouranosauros, Velociraptor, and so on), a dino "hospital," 5D and 7D cinemas, playground, cafe, and souvenir shop.
4. Family-friendly Resorts with Children's Clubs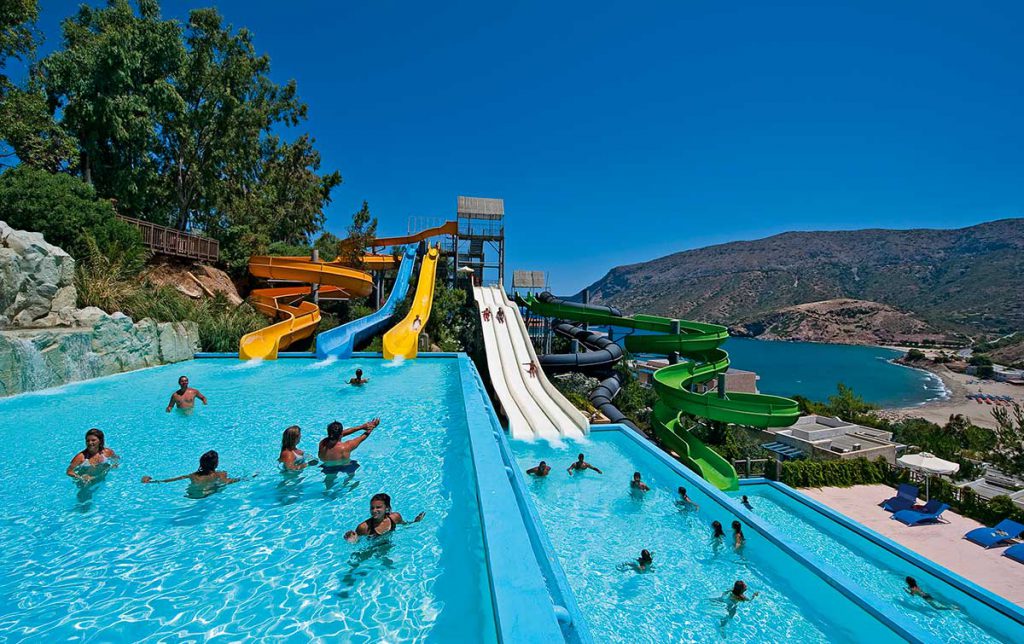 All family-friendly Cretan resorts have kids' clubs and seasonal activities designed to entertain the youngest guests. Some even go so far as to create a children's dining corner with smaller tables and seats and comfort food the little ones are bound to enjoy.
All seaside resorts have pools for adults and children alike, and some offer on-site activities like tennis, archery, dance nights, and much more such as waterparks. Book well in -advance – these resorts run out of availability for the summer season as early as March every year.
5. Cycling Along the Coast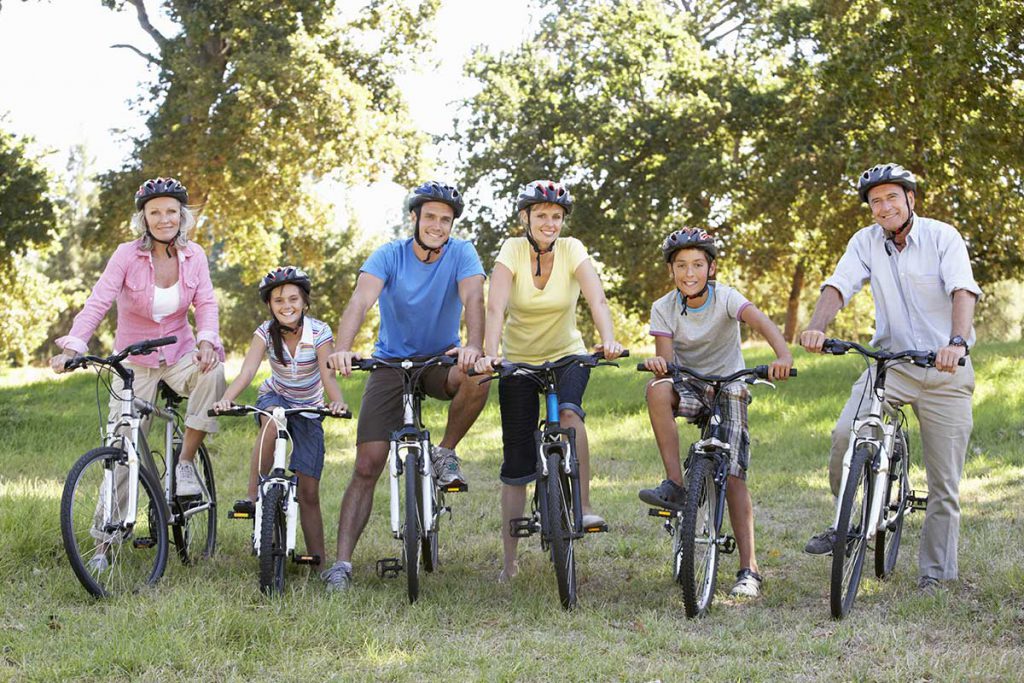 Road cycling is an increasingly popular activity on Crete island, albeit not safe enough for children. Nevertheless, if your kids like riding, you can take them on specially designed routes in the larger cities, like Rethymnon and Heraklion. Stay on the safe side and book a cycling tour with an experienced guide who knows the safest routes. Most road rides on the island require experienced or intermediate road cycling levels.