Once a small fishing village, Plakias has developed to a popular holiday destination for those who seek modern commodities and a relaxed vibe, away from the hustle of touristy areas. Situated at the southern coast of the island, just 36km from the city of Rethymno, Plakias is a must-see, and easily accessible for a daytrip. The coastline of Plakias is known for some of the best beaches in Crete, set in a stunning mountainous landscape with dramatic canyons and caves rising over the inviting Libyan Sea.
What to do
The beautiful sandy beach of Plakias, known as Gialia, starts near the town and extends to the east for about 1.3km. The beach is well organized and ideal for families, as there are several restaurants, snack bars, changing rooms, showers, and a variety of fun activities, such as water sports, snorkeling, cycling, beach volley courts, etc. The eastern part of the long beach is called Paligremnos, and is characterized by imposing vertical cliffs that attract many climbers every year. The azure, crystal clear waters of Plakias are perfect to enjoy a full day at the beach, and don't leave without strolling on the long beachfront promenade in the evening to complete the day with a beautiful sunset.
If you wish to explore the area and discover more dreamy beaches, you have many nearby options. The exotic Souda Beach, lined with Theophrastus palm trees, is located just 3 km west of Plakias. The beach is organized and a popular snorkeling spot. Amoudi, a beautiful sandy beach with sunbeds and umbrellas is only 5.5km away from Plakias, while its neighboring smaller beach of Ammoudaki is only 3.5 km away, more secluded and popular to nudists. The sandy beach of Damnoni is just 3 km east of Plakias, and offers several water sports activities and dining options with a view to the sea. Finally, the lovely cove of Schinaria with crystal clear waters is 8 km away from Plakias and popular with divers.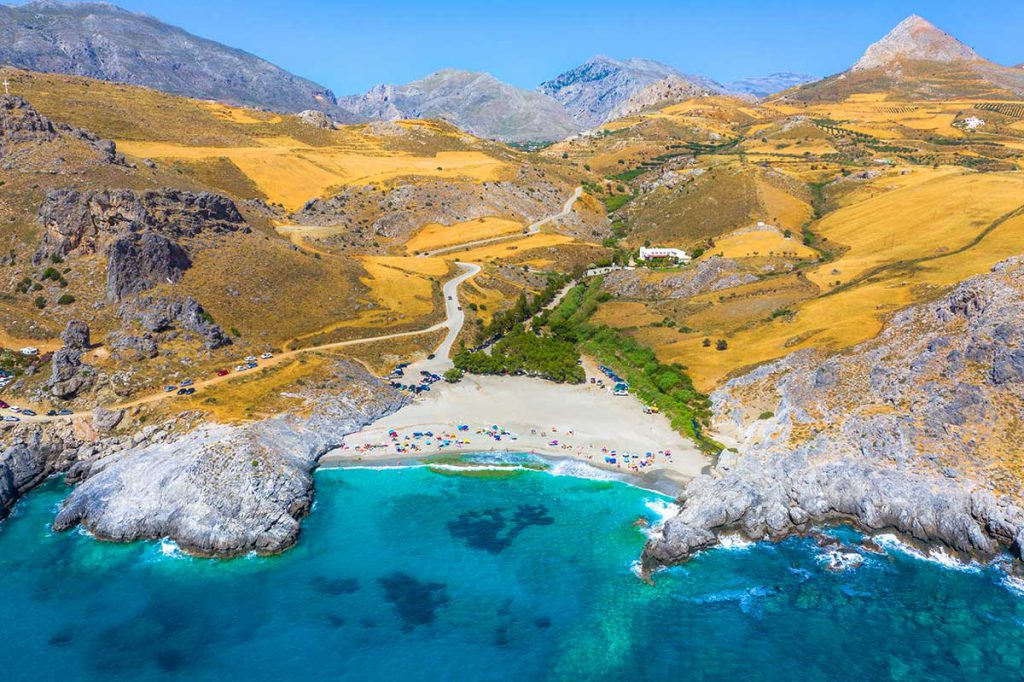 Where to eat
Alatsi restaurant
One of the best restaurants in the region, according to reviews, Alatsi offers a pleasant atmosphere under the shade of a vineyard and serves top quality fish, seafood, and Mediterranean dishes. Taste their delicious salads, crusted feta cheese with marmalade, seafood linguine, and chicken stuffed with graviera cheese and apaki (Cretan smoked meat). Alatsi is located at the western part of Plakias beach.
Tel. +30 2832 031256
Taverna Corali
A traditional fish tavern with friendly staff and a wonderful view from waterfront tables, serving a selection of fresh fish, seafood and Cretan mezze. Try their mussels cooked in white wine sauce, grilled calamari with garlic and chili peppers, and delicious grilled octopus. Corali is located at the western part of Plakias beach.
Tel. +30 2832 031276
Mesogeios restaurant in Damnoni
If you wish to enjoy your lunch or dinner away from the busy town of Plakias, then head to the nearby beach of Damnoni and Mesogeios restaurant. Enjoy a quality meal in a beautiful garden with salt cedars, taste hearty salads, excellent fresh fish, colorful seafood dishes and a variety of options from the Cretan and Mediterranean cuisine. Try the fisherman's pasta, smoked fish and kolokithoanthoi (dolmades rolled in zucchini blossoms).
Tel. +30 694 525 4289