Are you looking for the perfect beach getaway? Whether you are a nature lover, an adventure seeker, or simply someone who craves relaxation, these five stunning coastal beaches have something for everyone. Each beach offers a unique blend of natural beauty and tranquility, plus activities galore for all ages.
Balos Beach: A Paradise of Crystal-Clear Waters, a Beautiful Lagoon, and Stunning Scenery
Balos Beach, between the Cape Gramvousa and the small Cape Tigani in the Chania regional unit, captivates visitors with its rare beauty. With its crystal waters, beautiful lagoon, and stunning scenery, Balos Beach offers a mesmerizing experience.
As you dip in the azure sea, you will be amazed by the unparalleled clarity that lets you see the vibrant marine life underneath. The water is so transparent that it almost feels like swimming in a giant aquarium. Whether you are snorkeling or simply enjoying a refreshing swim, the purity of the water creates an enchanting experience that will leave you in awe.
The beach boasts a breathtaking lagoon that adds to its allure. The lagoon is a natural wonder formed by a unique combination of geological features and the gentle ebb and flow of the sea. Its shallow turquoise waters create a serene and picturesque setting perfect for relaxation and tranquility. Walking along the lagoon's edge or bathing in its calm waters is an experience that evokes a sense of peace and harmony with nature.
The scenery at Balos Beach is nothing short of spectacular. As you approach the beach, you will enjoy a panoramic view that will take your breath away. The beach is encompassed by rugged cliffs and jagged rock formations, creating a dramatic backdrop against the sapphire sea. The contrast between the golden sand and the deep blue waters creates a visual feast for the eyes.
The lagoon and the surrounding area have a variety of rare plants and animals protected by the Natura 2000 program. In this area, there are Eleonora falcons, shags, and cormorants nesting in the caves. Additionally, the site serves as a refuge for the protected monk seal and the loggerhead sea turtle (Caretta caretta). Unfortunately, despite the efforts to protect the area, some beachside vendors have set up canteens and umbrellas in recent years.
One exciting way to reach Balos is by hiking for three hours from Kaliviani. During the trek, you will cross the rugged and arid landscape of Gramvousa and the Platyskinos range. Remember to wear a hat and bring plenty of water. While visiting Balos, see the small chapel of Saint George in Tigani. Tigani is also home to a large cave where a tragic event occurred in 1825. Many women and children were massacred after the Turks discovered their hiding place. A commemorative sign marks the spot where the victims' remains were found.
Another exciting site near Balos is Cape Korykon, where you can explore the remains of the ancient Roman town of Agnio, including the temple of Apollo.
Elafonisi Beach: A Natural Wonder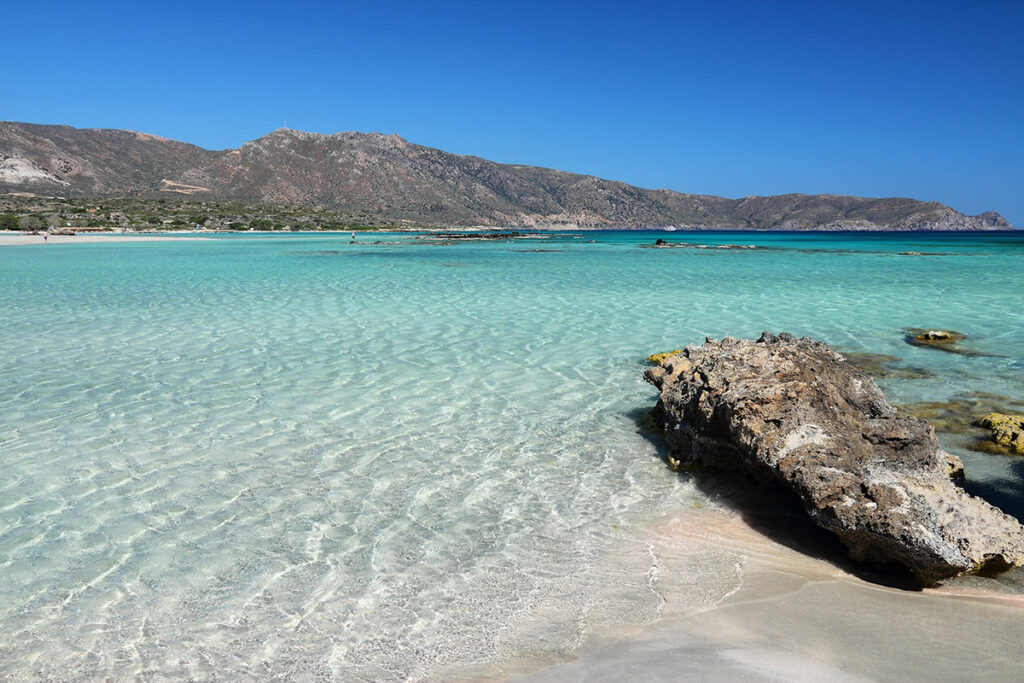 Elafonisi Beach, located in the southwestern part of Crete in the Chania regional unit, is renowned for its mesmerizing pink sand and clear waters.
The beach gets its rosy hue from tiny, fragmented shells and coral weathered and mixed with the sand over time. This natural phenomenon creates a visually stunning and dream-like atmosphere. Walking barefoot on the soft pink sand is an enchanting experience that will make you feel like you have stepped into a different world.
The turquoise waters are inviting for swimmers and snorkelers alike. Immerse yourself in the refreshing waters and discover a diverse underwater ecosystem teeming with colorful fish and marine life. Snorkeling enthusiasts will be delighted by the incredible visibility and the chance to explore the hidden treasures beneath the surface.
The water is also perfect for both beginner and advanced kitesurfers who want to improve their skills. With the consistent wind blowing from May to the end of October, this spot is reliable and breathtaking. A kite club is conveniently located right at the lagoon, and a surfing and windsurfing school is on the beach's opposite side. If the wind is not blowing or there are no waves, you can hop on a SUP board and enjoy gliding on the water.
Elafonisi Beach is not just a feast for the eyes with its stunning sand and waters, but it also displays a unique assortment of exotic flora. The beach is home to various rare plant species, including sea daffodils that bloom from August to October. As you stroll along the shoreline, you will be greeted by vibrant wildflowers and lush greenery, adding a touch of natural beauty to the already picturesque landscape.
The beach is part of the Natura 2000 network, a European initiative aimed at preserving biodiversity. This designation means that Elafonisi Beach is home to a wide array of animal species, including rare birds and nesting sea turtles. Keep your eyes peeled for elegant herons swooping across the horizon or the tracks of a sea turtle nest as you embrace the harmony between nature and the beach.
Preveli Beach: A Paradise for Nature Lovers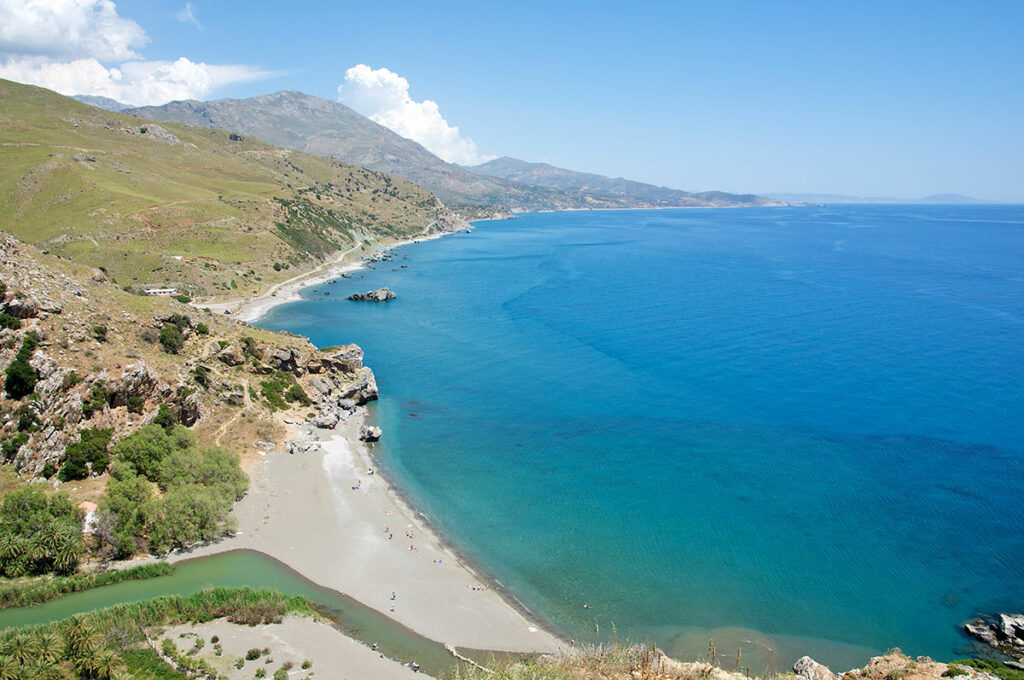 You can find numerous beaches with palm trees in Crete, but only two are home to the native Cretan Date Palm. One of these beaches is Preveli Beach, located in the southern part of Crete, 35km south of Rethymno, right by the Libyan Sea. To get to the beach, follow the well-marked signs from Rethymno, only 35 km away.
The Preveli Beach, also called Lake Preveli or Phoenix, can be found at the end of the impressive Kourtaliotikos Gorge, where the Grand River (Megalos Potamos) flows out. It is the most well-known beach in southern Crete and attracts thousands of visitors every summer.
As you approach the beach, you will be greeted by a lush oasis of towering palm trees, creating a tropical paradise-like setting. Seeing these majestic trees swaying gently in the breeze adds a touch of exotic allure to the entire beach experience.
Preveli Beach feels like a peaceful oasis tucked away from the hustle and bustle of city life. Whether you are looking to lay back on the sandy shore, take a refreshing dip in the sea, or immerse yourself in the serene surroundings, Preveli Beach provides the perfect setting for a peaceful retreat.
With its palm forest, meandering river, and peaceful ambiance, Preveli Beach stands out as a true paradise on the island of Crete. It is where you can escape the ordinary and reconnect with nature in its purest form.
There are no water sports facilities at Preveli Beach.
Good to know: The path to the beach starts from two parking areas and involves crossing rocks and climbing a few steps. It typically takes around 20 minutes to complete the route. The path may be slightly more challenging for families with young children, but it is still doable. It is advisable for individuals who have difficulty walking to reconsider their visit.
Falassarna Beach: A Gem of Rare Beauty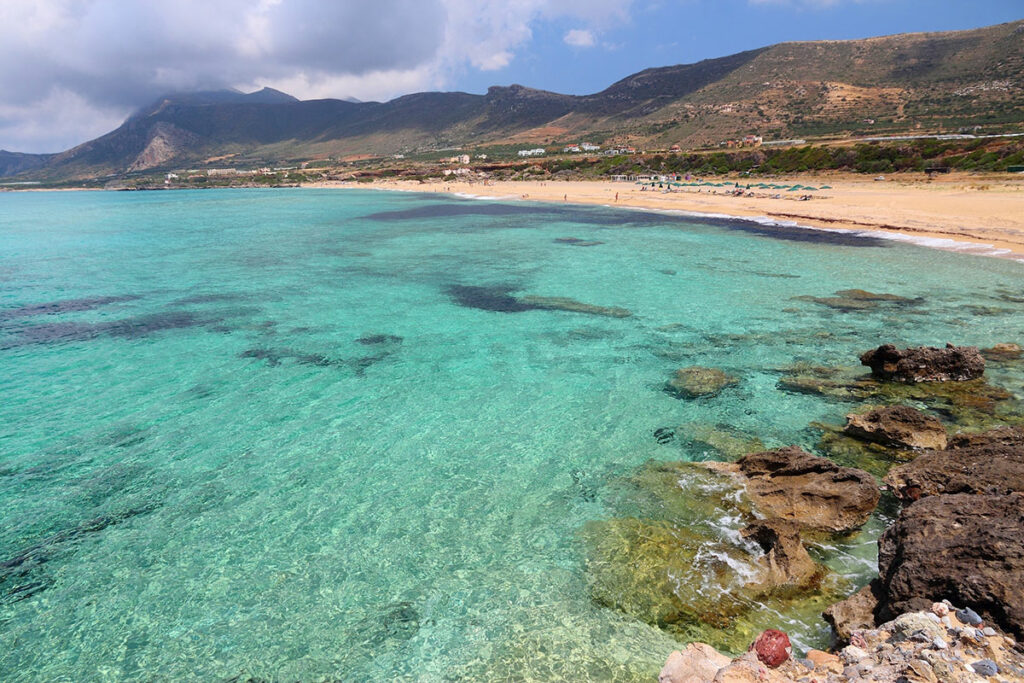 The beautiful Falassarna beach can be found 59km to the west of Chania, in the western part of the Gramvousa peninsula. On the northern side of the beach, you can explore the ancient ruins of the Greco-Roman city of Phalassarna, which gives its name to the beach and modern-day village.
One of the most captivating features of Falassarna Beach is its breathtaking sunsets. As the sun begins its descent, the sky transforms into a canvas of vibrant orange, pink, and purple hues, creating a spectacle that is nothing short of magical. Whether you witness this awe-inspiring display from the comforting sand or while sipping on a refreshing cocktail at one of the beachfront taverns, the experience is guaranteed to leave you in awe.
In addition to its natural splendor, Falassarna Beach boasts rich historical significance. As you explore the area, you will discover remnants of an ancient civilization that once thrived here. The ruins of an ancient harbor, city walls, and a temple dedicated to the sea god Poseidon are fascinating reminders of the area's past.
Whether you lounge on the long sandy beach, witness picturesque sunsets, or delve into the intriguing ancient ruins, Falassarna Beach offers an unforgettable experience for every visitor.
At Falassarna Beach, you can enjoy a perfect beach getaway. The scenery is breathtaking, and the water is clear and shallow, making it ideal for splashing around and snorkeling. If you are interested in diving, a local school offers introductory and beginner courses in shallow waters.
Several water sports providers are located right on the beach. They offer courses in surfing and windsurfing, as well as equipment rentals. You can also hire jet skis or try out fun water sports like banana boats, which are popular.
The best part is that you do not have to choose if you are torn between windsurfing and surfing during your beach vacation! From May to October, the conditions are often ideal for windsurfing, and there are also waves that are great for beginners in surfing. And even if there happens to be a calm period, you can still have fun with SUP boards.
Agia Marina Beach: A Lively Destination for Sports and Fun
Agia Marina, a charming coastal village, lies 9km west of Chania. It is a highly sought-after destination in Chania, renowned for its numerous hotels and wide range of tourist facilities. The village derives its name from the local church of Agia Marina (Saint Marina), celebrated on July 17th.
Agia Marina Beach will captivate you with its pristine golden sand. Walking along the shoreline, you will notice how the sand glistens under the bright Mediterranean sun, creating a picturesque scene perfect for Instagram-worthy photos.
Agia Marina Beach buzzes with a vibrant and lively atmosphere that truly sets it apart. The beachfront is lined with beach bars, restaurants, and cafes, offering a delightful selection of cuisines and refreshing drinks. Whether you are in the mood for a traditional Greek meze or a tropical cocktail, these eateries will spoil you for choice. The beach comes alive with music and laughter as the sun sets, making it ideal for those seeking fun.
For adventure seekers, Agia Marina Beach offers an array of exhilarating water sports and activities. From jet skiing and parasailing to paddleboarding and banana boat rides, there is something for everyone to enjoy. Dive into the clear waters and explore the vibrant marine life through snorkeling or scuba diving.
Agia Marina Beach offers a great combination of fun and action, with many water sports available. You will find the only flyboard company in the greater Chania area and options for waterskiing, wakeboarding, and riding a banana boat. If you prefer a more leisurely activity, you can rent pedal boats or stand-up paddle boards to explore the nearby island of Theodorou. Just remember that entering the island is prohibited, as it serves as a sanctuary for the endangered Greek wild goat called Kri-Kri. Another exciting sight at the beach is the regular visits from the Caretta Caretta turtle, which comes ashore to lay its eggs. And if surfing is your thing, you will be pleased to know that good waves are common here.
Rethymno and Chania boast many other magnificent beaches that display rare beauty. The clear turquoise waters, breathtaking cliffs, and picturesque landscapes make each a must-visit destination. Whether you seek relaxation, adventure, or a place to unwind, Rethymno and Chania offer an unforgettable beach experience. So, pack your sunscreen, grab your beach towel, and get ready to explore the remarkable beauty of these five famous beaches in Crete.