A traditional village on Crete Island can mean many things: miraculous natural springs, dining like a local in a countryside taverna where the cooks follow generations-old recipes, visiting a monastery, enjoying a walk in nature, and even discovering ancient arts and crafts like pottery, kopaneli lacemaking, leatherworking, loom weaving, etc.
If you want to discover other traditional villages using Fodele Beach & Water Park Holiday Resort as your home base during your Cretan holiday, here are five you will enjoy. Each of these settlements offers a different slice of Cretan countryside lifestyle.
Fodele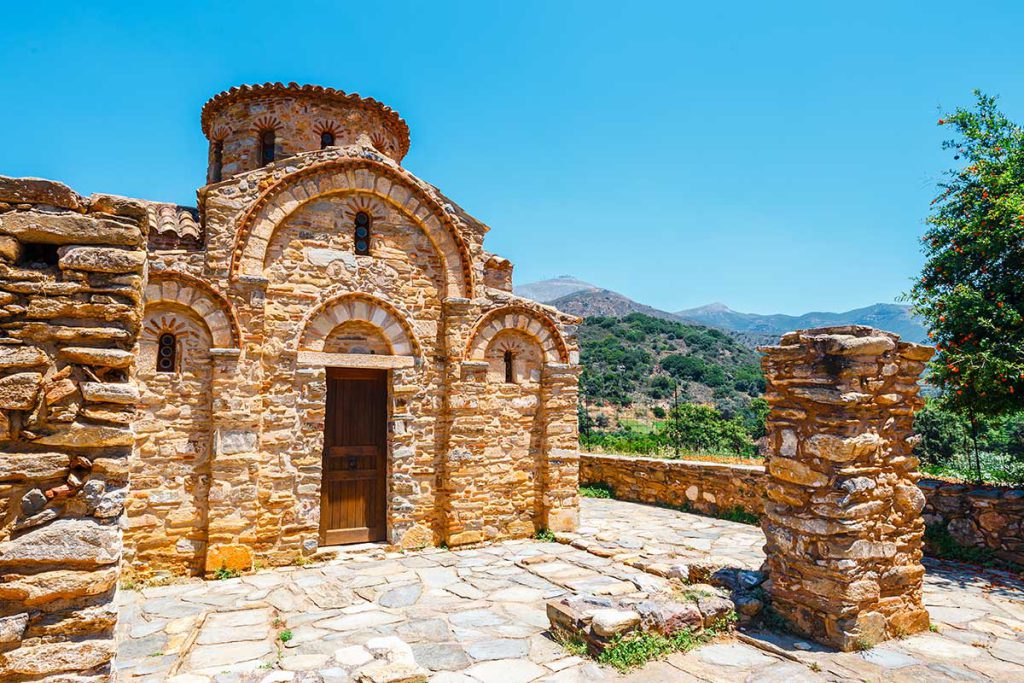 The closest traditional village to Fodele Beach & Water Park Holiday Resort is Fodele itself, about three kilometres inland from the beach. Here, several outstanding elements form the fabric of an authentic Cretan settlement.
Suppose you catch the village's orange festival in March. In that case, you can taste the region's famed oranges during the citrus harvest season, which lasts from December until March. You can also sample many citrus-based local homemade products, including spoon sweets, lemon or orange-flavoured raki (tsikoudia – τσικουδιά), cookies, cakes, pies, juices, and more.
Fodele also has a strong arts and crafts tradition: you can see yayades (grandmothers – γιαγιάδες) making lace in the street, and you will find many souvenir shops selling lace and artisan goods, especially garments, but also home decor and accessories.
Tylissos
Crete's Minoan history and legacy are fascinating, and one must not always go all the way to Knossos to see a Minoan settlement: these are scattered all over the island.
Tylissos is significant, especially for its archaeological site, which revealed three Minoan palaces (marked Mansion A, B, and C) dating from circa 1650-1450 BC. In addition, many tombs with painted clay sarcophagi and valuable archaeological finds from 1400-1200 BC were unearthed in the area.
Besides visiting the archaeological site, you can also see the Municipal Gallery of Malevizi in Tylissos, especially for contemporary works – painting, sculpture, photography, mixed media, etc. – by Cretan and Greek artists.
If you are in the mood for a countryside walk or a hike in a gorge, Tylissos does not disappoint: the Almiros Gorge and Gonies Gorge are in this area. In addition, there are also several caves, the nearest being called Trapeza, located at the hill Pirgos.
Anogia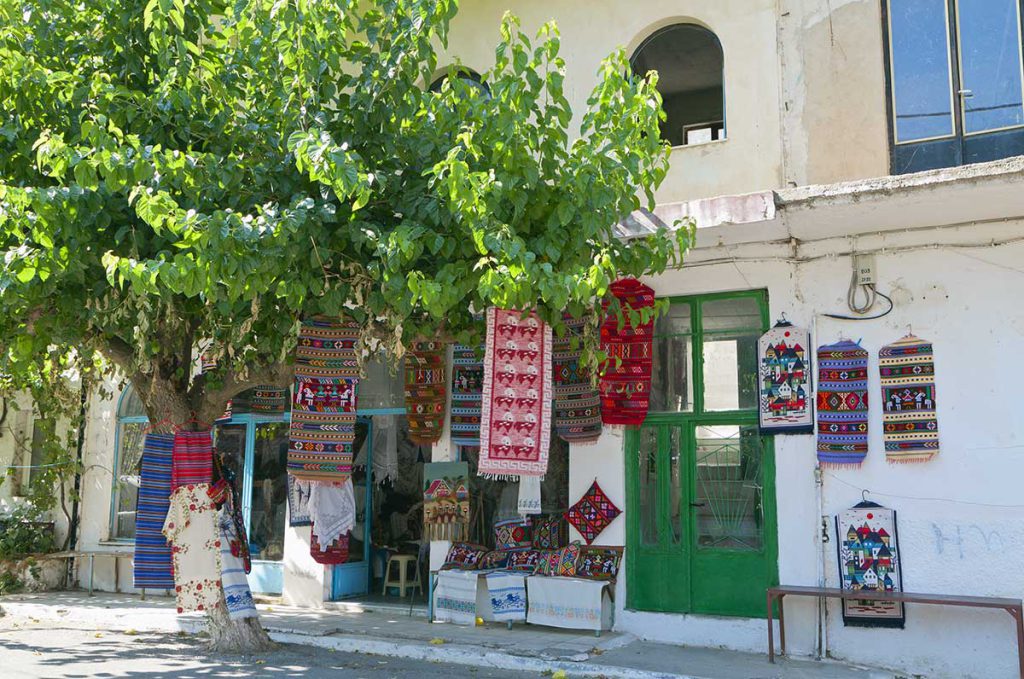 Anogia (also Anogeia – Ανώγεια) is famous for traditional Cretan loom weaving ateliers, where you can observe the masters of the craft at work. It is a beautiful village with typical Cretan homes and several tavernas where you can enjoy mountain fare paired with locally distilled artisan raki (tsikoudia).
Being the birthplace of legendary Cretan lyra players and singers like Nikos Xylouris (Psaronikos) and Antonis Xylouris (Psarantonis), Anogia still follows a long-standing, cherished music tradition.

You will hear the lyra almost every evening in the summer when local singers perform live, open-air concerts. Furthermore, many tavernas have live lyra performers every weekend. In addition, the Cretan music festival Yakinthia takes place every summer in the amphitheatre next to the Greek Orthodox chapel dedicated to Agios Yakinthos (St. Hyacinth).
Of course, you cannot leave Anogia without a woven souvenir, and you can choose anything from bags (vourgies) to clothing, carpets, kitchen towels, etc.
Archanes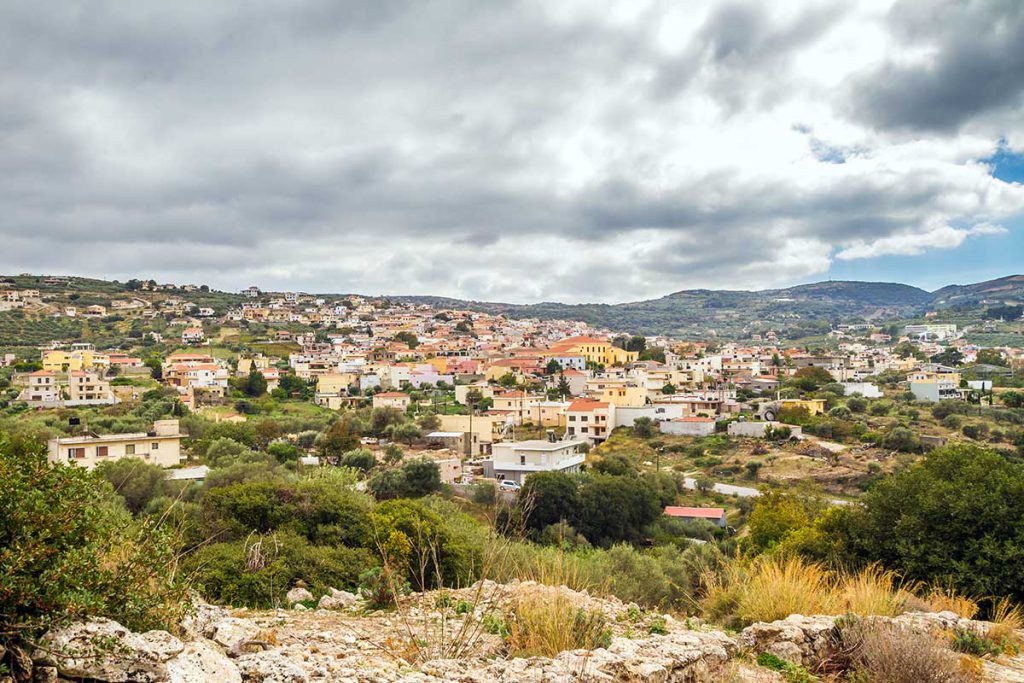 Archanes (also Arhanes – Αρχάνες) is a model of rural residential development, and although it is a small town, it has all the elements of a traditional Cretan village. It is a 45 minutes' drive from Fodele, at an altitude of 380 meters above sea level, between Mountain Juktas and Kefala Hill.
The area has been inhabited since the Minoan era when ancient Archanes was an important religious and economic hub, as attested by the archaeological discovery of roads from the village to Juktas, Anemospilia, Xeri Kara, and Vathypetro.
There are several other things you can do in Archanes besides visiting the ancient settlement:
Hike the Archaniotiko (Knossano) Gorge and see the scenic Karydaki waterfall.
Walk on the Minoan path from Kato Arhanes to Fourni, where you can see a wooded hill, a grove, and the archaeological site of Fourni (not open to the public but visible across the fence).
Visit one of the local Greek Orthodox churches and chapels, among which the most noteworthy are the Venetian church of Virgin Mary (Panagia Kera or Faneromeni), the Church of Agia Paraskevi, the Church of Agia Triada (Holy Trinity) at Arhanes, and the Church of Michael the Archangel, with frescoes from 1315.
And visit the Archaeological Museum of Archanes, which displays archaeological finds from the Fourni necropolis, Anemospilia, and Archanes Minoan Palace.
Go to the Vathypetro archaeological site four kilometres south of Archanes to see one of the oldest wine presses in the world (around 1550 BC) and an ancient olive press.
Visit an olive farm to see working olive presses and taste local extra virgin olive oil.
Take advantage of the opportunity to sample regional wines: Archanes is famous for its winemaking tradition.
Achlada
Crete has a few "ghost" villages – settlements deserted for distinct reasons. Aradena, Kalami, Drakos, and Achlada are just some of these eerie destinations, and while you will see only ruins as you stroll down their dilapidated streets, there is a lot of history in their ruins.
Achlada gets its name from the abundant ahlada (or agoutsakas) pear trees growing all over the place in the area. It sits atop a hill overlooking the bay of Agia Pelagia – the views of the Cretan Sea from here are spellbinding.
Most of the village is deserted, but there are also a few inhabited homes, as young entrepreneurs see the extraordinary real estate potential here and invest in rebuilding and renovating old, traditional Cretan homes. There are also eco-tourism businesses in the area, and a small taverna, with no fixed menu, serving mountain fare al fresco while you take in the panoramas and the breeze.